My sincere but probably self-defeating tribute to Frank Robbins' 1970s flirtation with penciling comic books continues with this Tony Isabella-scripted, Frank Chiaramonte-inked, Dianne Buscema-colored and Gaspar Saladino/Karen Mantlo-lettered chapter in Captain America's ongoing post-Watergate metaphorical meltdown.
When last we left them, Cap was crying and the Falcon was catatonic after the big reveal that the Falcon's life before they met was much more SUPERFLY than TO SIR WITH LOVE, which seriously flipped Cap's shit; I bet he's one of those guys who can't believe his girlfriend ever made out with anyone before him too.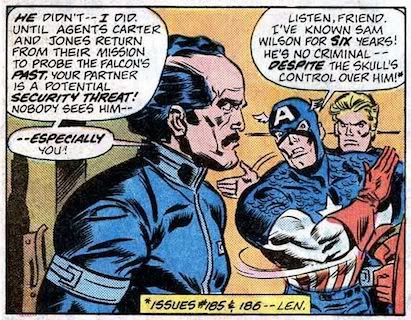 I like that Cap knows exactly how many years he's known his partner; I know I would have to stop and do the math for that for, well, virtually everyone I know who's not my parents. Then again, I bet everyone who knows Captain America at all uses him as a resume job reference, so he probably has hundreds of "Years Known" figures already memorized.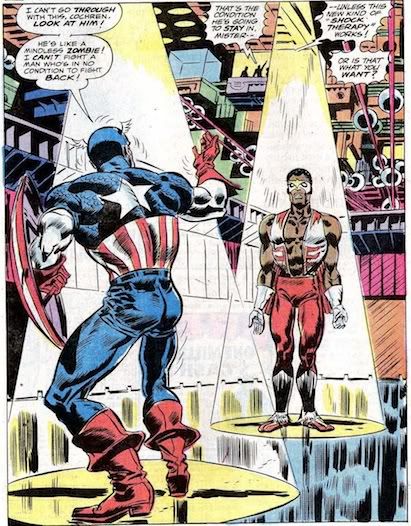 Click For Larger Image
I'm pretty sure we already did this "hallucinating hero mistakes his partner for his enemies" angle earlier in this run, but it's still fun to see superdupers in vegetative states get their asses kicked. Right? ... Right? This better not be another one of those things like how supposedly not everyone shoots his teammates in the back of the head with a sniper rifle just to see which way they fall while playing games. [Even if true, the Boys & Girls club could have given me a warning before rescinding my basketball privileges for life.]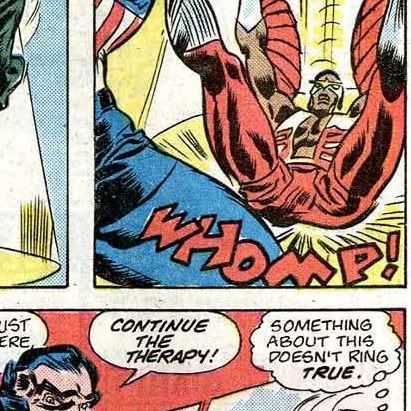 Click For Complete Image
I don't remember the S.H.I.E.L.D. guy with the widow's peak hair from the actual S.H.I.E.L.D. comic -- is this the first "Despite my obvious contempt for Nick Fury, his methods and the organization itself on top of the obvious fact that I'm so unstable that I shouldn't be allowed to supervise a car wash much less an agency entrusted with the Earth's safety, I'm still in charge when Fury's not around" pseudo- to outright-antagonist Vice/Assistant Director that's easy to drop into any story where the writer needs S.H.I.E.L.D. [or a facile metaphor for the C.I.A./America/Western Civilization] to be totally assholic?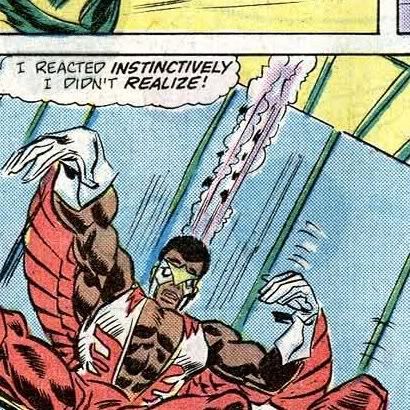 Click For Complete Image
"Again, who's running this operation? I am, you long-established but ineffective supporting characters!"
What's that old saying? Fool me once, shame on you; fool me twice, it's a shame I probably just destroyed your other kidne -- OH MY GOD, IT'S THE RADIOACTIVE MAN!!! TAKE THIS, YOU COMMIE SONNUVA -- HAI-YAH! ... Sam? How did I mistake you for anothe -- BLACK NIGHT??? BUT YOU'RE DEAD! NO MATTER -- THIS WILL SCREW YOU AND THE HORSE YOU FLEW IN ON! HA HA! ... oh no, Sam! Are you OK?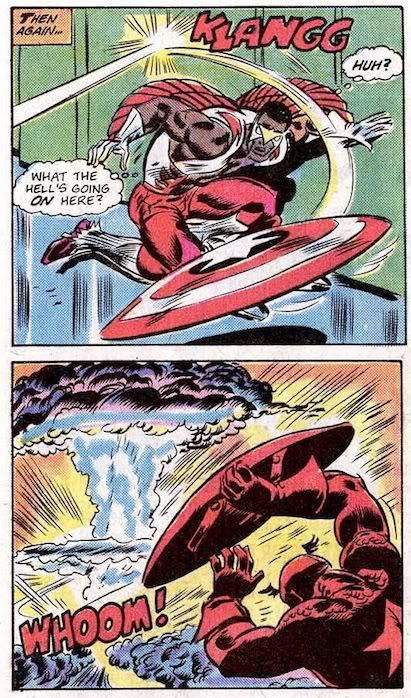 Some panel transitions are more entertaining when the connecting tissue between them is cut out.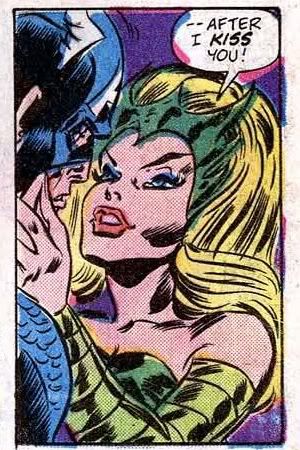 It's probably bad form to bag on the random shitty printing of a '70s Marvel comic -- a time when the company never met a production corner they didn't already cut twice [third time's the charm] -- but this panel's printing is hypnotic in its awfulness. I'd like to think that it's intentional; a clearly addled Cap could easily believe that an Asgardian temptress, whom he's fought several times in the past, would just show up to make out with him if she looks like a young-ish barfly at last call.
[SPOILER ALERT:
At the end of the issue, we learn that Cap's Enchantress hallucination is actually the villainess Deadly Nightshade, not the Falcon this time. This shocking revelation single-handedly killed any chance of a Cap/Falcon slash-fanfic boom.
END SPOILERS.]
Meanwhile, Cochren showcases the kind of management approach that gets a bureaucrat with even a career-endangeringly deep receding hairline into the #2 spot in any company; waving a gun around and making threats: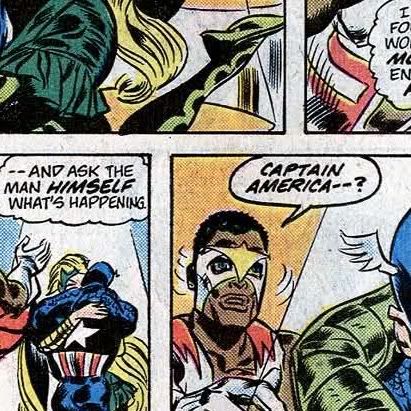 Click For Complete Image
It's hard out here for a pimp: One day, you wash up on the shores of a tiny Brazilian island; the next thing you know, you're wearing a chicken suit and Captain America is stomping a new mudhole in your ass when he's not making out with one of his foxy bitches.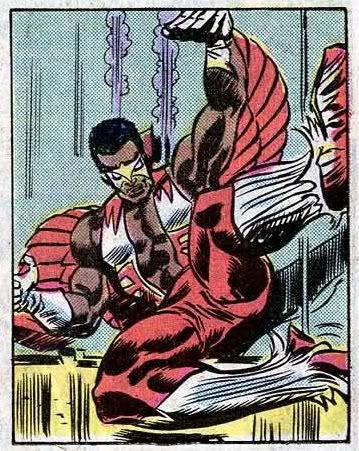 This issue, and the overall thrust of the second half of Robbins' run as CAPTAIN AMERICA artist, in a nutshell.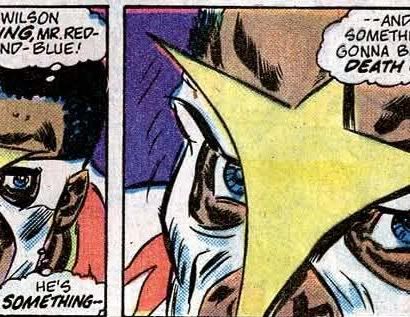 Click for full image
.
If memory serves, this was essentially Jesse Jackson's discarded first draft of his
"I Am -- Somebody" WATTSTAX poem
: "I ain't! Nothing! Captain America may have trashed me! But I ain't! Nothing! He may have trashed me like I was nothing! But I ain't! Nothing! I am! Something! And that something! Will be! The death of Captain America!"
Meanwhile, in JEFFREY COCHREN, OGLER OF S.H.I.E.L.D.: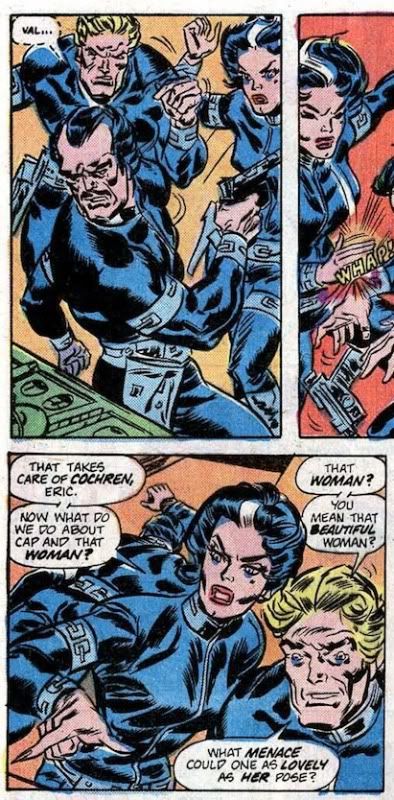 Such is the power of Cap's heavy petting that it's distracting everyone -- even Cochren, who seems to be muttering dirty, dirty thoughts while he watches. Luckily, the Falcon recalls his training from master cockblocker, The Red Skull: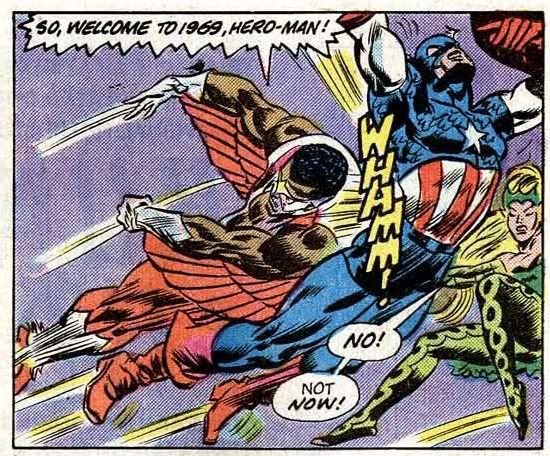 Click For Larger Image
It is a tasty bit of business to have Snap Wilson, having "lost" six years as Sam Wilson, think it's still 1969 instead of the then-actual 1975.
Rather than being annoyed that Wilson ruined his chances of getting laid while untold numbers of S.H.I.E.L.D. agents watch -- an item that hovers somewhere in the mid-20s of my personal bucket list -- Cap is delighted to see that he doesn't have treat his partner like a punching bag anymore:
However, no one sent the Falcon's partner Redwing the memo: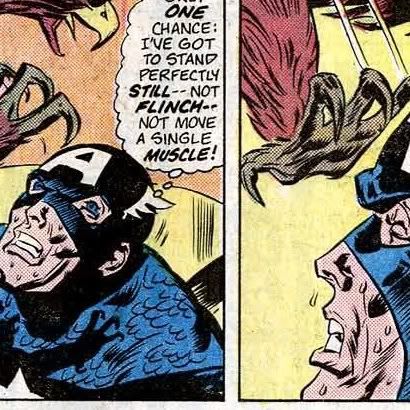 Click For Complete Image
The intelligence of animals in adventure stories is instantly adjustable -- a writer's crescent wrench for plotting -- but two things occur to me here:
One, the bird has been somewhere nearby -- presumably S.H.I.E.L.D. at least keeps the doors and windows closed in its deathmatch psyche-treatment room -- but the has sat out all of the asskicking his owner has taken. Either Redwing is so stupid that he doesn't recognize the Falcon, or he does recognize him but chooses to sit this fight out until the boss starts doing the heavy lifting.
Two: Once Wilson has regained some of his marbles, he instantly recognizes Captain America albeit not the part where they've been partners for the last six years. But Redwing either: 1.] Doesn't remember Cap, 2.] Remembers Cap but is following Falcon's psychic command, despite the Falcon's body having a different psyche in control or 3.] Remembers Cap, knows that something's wrong with the Falcon but has always wanted to claw Cap's eyes out.
Considering how often scientific studies indicate that performing animals like dolphins and circus elephants suffer from depression and seem to resent humans for enslaving them, I'd like to think that Redwing likes seeing Cap & the Falcon suffer whenever possible.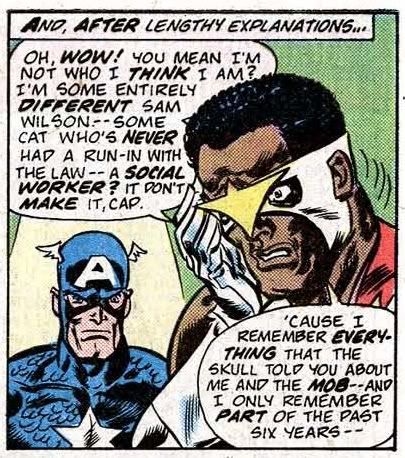 I just like these faces.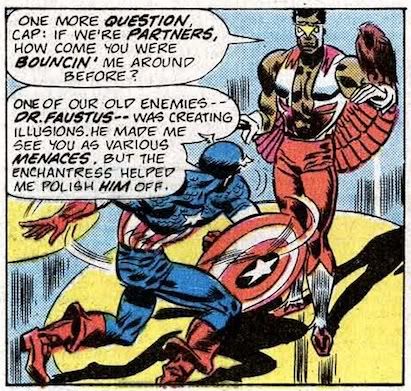 I haven't read any CAP comics in years, but I assume Dr. Faustus has made a big comeback sometime in the last decade; he's always a good device for writing Cap stories when the country is in a more severe shitter-downward angle than normal without having to embrace the reality that a Captain America who truly reflected the current state of the U.S. would be a stone-cold prick.
Anyway, I like that Cap strikes an odd pose to tell his pal all about the evil goddess he was making out with after he and she defeated another imaginary enemy. Does his gesture make any sense at all? When did supercomics artists stop getting instantly bored with talking scenes and finding ways to jazz them up visually, even if their jazz doesn't add anything positive to the story?
NEXT ISSUE: What's more deadly, Nightshade or Vince Colletta's corrective inks to Robbins' energetic pencils?