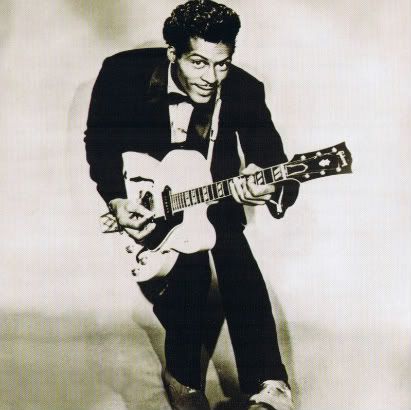 Click For Larger Image
.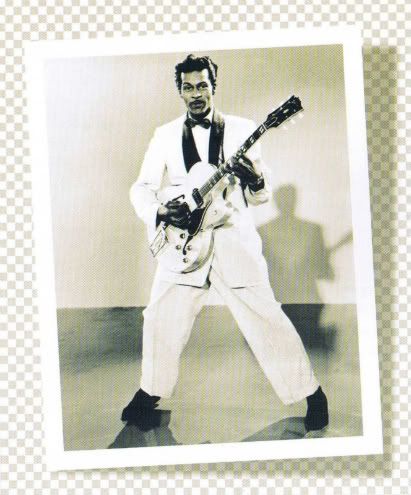 Click For Larger Image
.
I've mentioned my
fondness
bordering on
covetousness
of the 1956 Gibson ES-350T natural-finish thinline-hollowbody electric guitar -- largely because it's the sound and the look Chuck Berry had during his classic years at Chess Records. I remember an interview with Andy Summers of the Police where he cited Berry's sound as the platonic ideal for pop-music electric guitar; fat but with an edge. The model's high prices and rarity have kept one out of my hands to try out -- and Leonard Chess' move to record Chuck at a slower speed to make him sound younger on playback makes it difficult to know for sure how much of that sound was in the tape, in the room, in his hands and/or in that guitar, but that's still The Rock & Roll guitar.
Here's
a brief article about the 1958 model, which foolishly replaced the hot single-coil P-90 pickups for the comparatively boring PAF humbuckers.
And here's Chuck Berry playing a humbucker-loaded, long-neck ES-335 in the mid-1960s:
I think I love his verbal introductions to the songs better than his guitar intros -- but not nearly as much as the Marcelle pompadour and black Italian suit. It's not that much of a coincidence that Chuck lost a lot of his genius and drifted into oldies-circuit limbo at the same time he discovered paisley polyester and stopped dressing like a head-cutting jazzbo from a farm town.