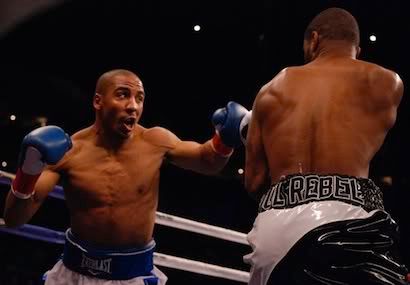 Well, it sounds like Allan Green turned out to be even more of an underachiever than his resume indicates and much, much less of a live underdog than his extraordinary amount of trash talk promised. Andre Ward apparently dominated him even more thoroughly than he controled Mikkel Kessler a few months ago -- not just pulling the same billy-goat bullshit [you have to wonder how well Ward's style of headbutting and clinching would have flown if he hadn't fought all of his matches in his hometown of Oakland, CA] but getting his punches off first every time.
After four or five rounds, Green stopped fighting to win but to simply make it to the final bell on his feet, making Joshua Clottey's recent defense-only performance against Manny Pacquiao look just a little less awful in comparison. The Oracle arena is not Cowboys Stadium, Ward is no Pacquiao and all the "because of the fight being rescheduled, I overtrained" excuses in the world can change a thing.
If I did the math right, Green still has a shot at squeaking into the next round if he knocks Kessler out -- something no other fighter, not Ward or even super-middleweight living legend Joe Calzaghe could do in scoring Kessler's only losses as a professional boxer. It could happen, certainly -- it's arguable that Green hits harder than Carl Froch, who damaged Kessler more than I expected him to in their last fight. I'm not so sure that Kessler himself isn't shot as a fighter, for that matter -- it's easy for even a shot veteran to look pretty good against a come-forward goon like Froch. [See also: Jermaine Taylor.]
Anyway, it looks like Ward has already racked up the tourney points needed to advance to the semi-finals regardless of whether or not he beats Andre Dirrell. I never thought I'd ever write this, but I'm rooting for Dirrell to pull off the upset, hopefully staged somewhere that's not fucking Oakland. Again, if my math is correct, Dirrell must win to advance.
The other two fights for the semis -- Froch vs. Arthur Abraham [King Arthur demolishes Froch, who's not fast nor agile enough to beat Abraham the way Dirrell was before Abraham was disqualified] and Kessler-Green [Kessler probably wins but, again, my heart can't not root for a fellow underachieving comic-book nerd, expecially one with KO power in both fists] -- will determine at least two if not all three of the seeds for the semi-final matches.
If my heart controlled the Showtime boxing universe, then Dirrell [2 points for a decision win], Green [3 points for a KO] and Abraham [3 points] win their fights. The semis would be Abraham-Green and a reprise of Ward-Dirrell. The former would be a gas to watch, for however short it lasted, at least.
The odds are that Ward [2 points], Abraham [3 points] and Kessler [2 points] win Group Stage Three, however, setting the stage for a semi of Ward or Abraham [both having 6 points] against either Froch or Dirrell [tied at 2 points] and Kessler fighting Ward or Abraham. That's ... slightly confusing, isn't it. Oh well, Ken Hershman is a smart guy, they'll figure something out.