Sorry this rundown is so late and none of the comics are very new; even with half the summer vacation left to go, most of my remaining free time just has to be spent listening to the radio [can't believe they're canceling THE LIVES OF HARRY LIME!], following the Olympic boxing in Helsinki [Ed Sanders is going to be the greatest negro heavyweight of all time!] and going nuts over Rocky Marciano finally getting a chance to fight Jersey Joe Walcott for the championship in a couple of months. Give 'im Hell, Rock! Also, I blew a lot of my comics budget on soda, a bunch of choice recent comics and a great cartoon book I found in a local bookstore, so I had to stick to just the essentials for my new-ish comics haul:
******* WARNING: SPOILERS *******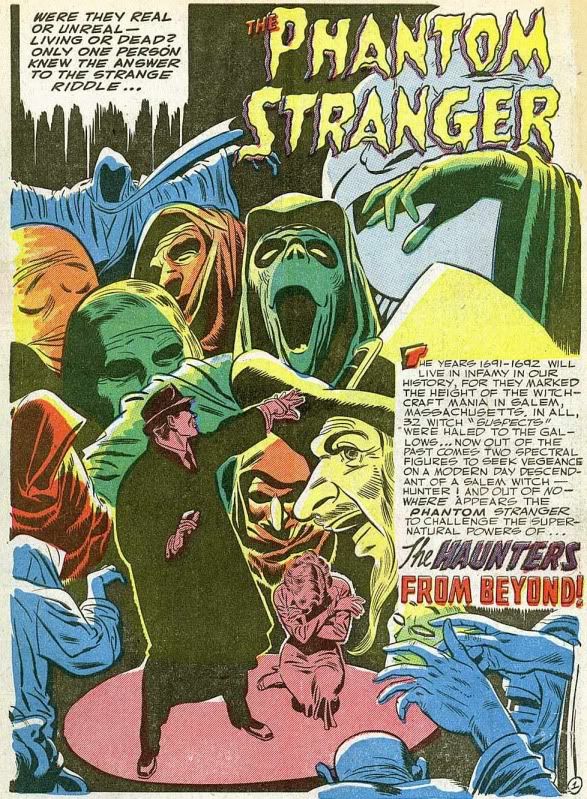 Click for large scan
THE PHANTOM STRANGER #1
DC, Aug-Sept, $0.10

I bought this one just for the clean, modern design and art -- Carmine Infantino, I think -- but reading it, I like that it's so rational. [I suppose that's why there were still copies of it on the racks.] The Phantom Stranger isn't a ghost or a sorcerer, just a man dressed in solid black who knows it's always a good idea to punch anyone who claims to be a warlock in the mouth. There's one non-Stranger EC-like story, but even that one ends with the goblin-in-the-bottle turning out to be some jerk. If horror stories are supposed to horrify, then they should stay on the radio or in books [and thus in the listener's/reader's imagination] where they belong.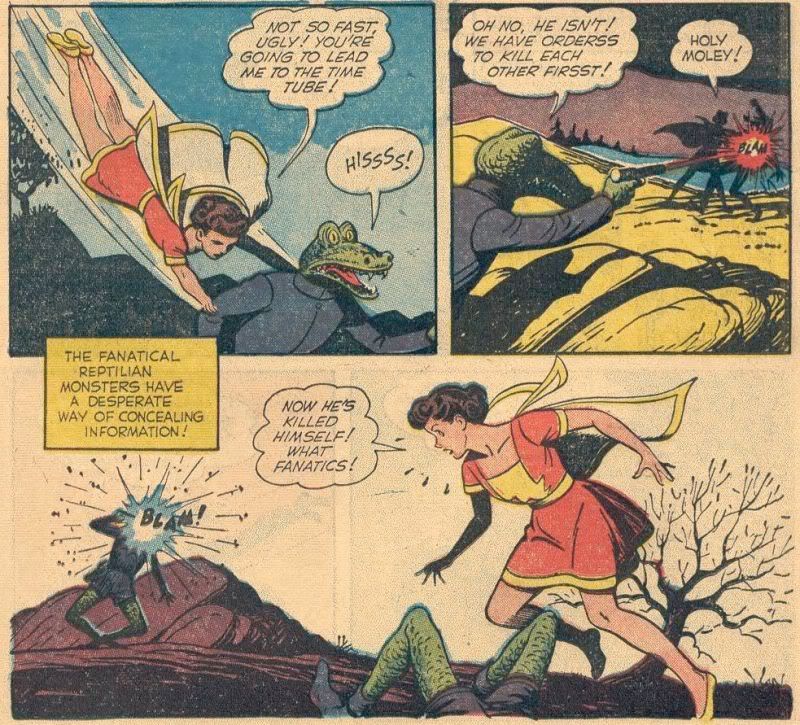 Click for large scan
THE MARVEL FAMILY #74
Fawcett, Aug, $0.10
Fawcett is publishing far too many Captain Marvel comic books to keep up, but I appreciate that they keep a team of their best staffers, from writing all the way down to coloring, making full, book-length stories for this title. "The Marvel Family Battles The Hissing Horror" is a clever, funny fantasy -- finding a reason why three children with the power of Gods would have difficulty defeating a handful of reptilian Hissmen from a million years ago -- that's so charming and well-made that it's only later that you realize how insane the story is: The Marvels and their brainy pal Dexter Knox discover what they think is a time capsule buried in an abandoned lot, only to discover it's a portal to a million years ago after nihilistic, lava-gun-wielding Hissmen [who sssssssspeak Englissssssssssshhhh] kidnap hundreds people in their sleep and take them back into prehistoric times, where/when a machine changes them [and later the Marvels themselves] into Hisssssssmen too. It's nuts but played so straight that it works.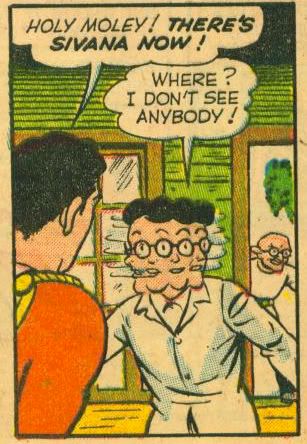 Click for large scan
CAPTAIN MARVEL ADVENTURES #136
Fawcett, Sept, $0.10
Easily the funniest comic I've read this week. Sivana is the best when he's more of a spoiler than a supervillain, and in "Captain Marvel Battles Hallucination" he gleefully drives the Big Red Cheese literally into the nuthouse. There's something about how enthusiastic Sivana is -- like he's an actor more interested in entertaining his audience by stealing every scene he's in than a villain set out to destroy Capt. Marvel and take over the world -- that reminds me more of LITTLE LULU's Tubby than Lex Luthor.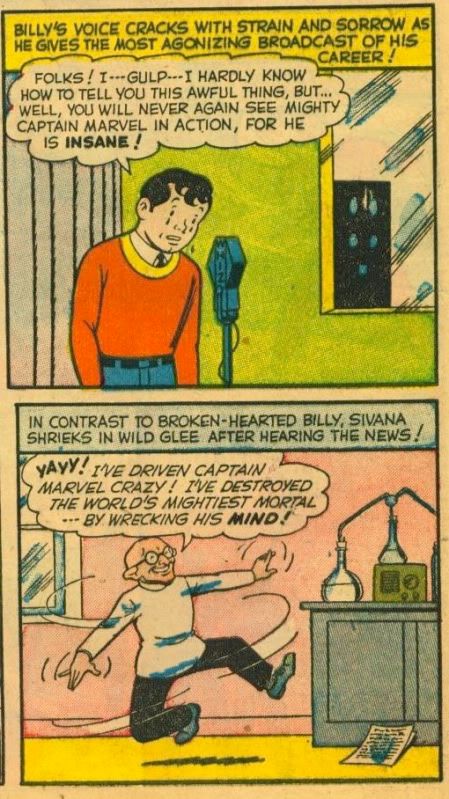 Click for large scan
CRIME SUSPENSTORIES #12
EC, Aug-Sept, $0.10
Johnny Craig's art continues to improve by leaps and bounds -- I think he might even be writing his own stories, which makes sense -- although I wish he could at least make his splash pages as compelling and detailed as his covers. "The Execution" isn't the typical EC story; while it does have the trademark shock ending, it doesn't need one in order to be gripping and satisfying -- a major leap forward for this type of story -- and Craig [and his writer?] should be applauded for doing an innocent-man-on-death-row story that doesn't end with a cliche, like the guilty man being a prison official or some other high mucky-muck who laughs up his sleeve that some sucker got the chair for his crime. We never find out who killed the woman that our protagonist has been put to death over -- ambiguous sophistication or sophisticated ambiguity for a comic book that contains unused HAUNT OF FEAR junk.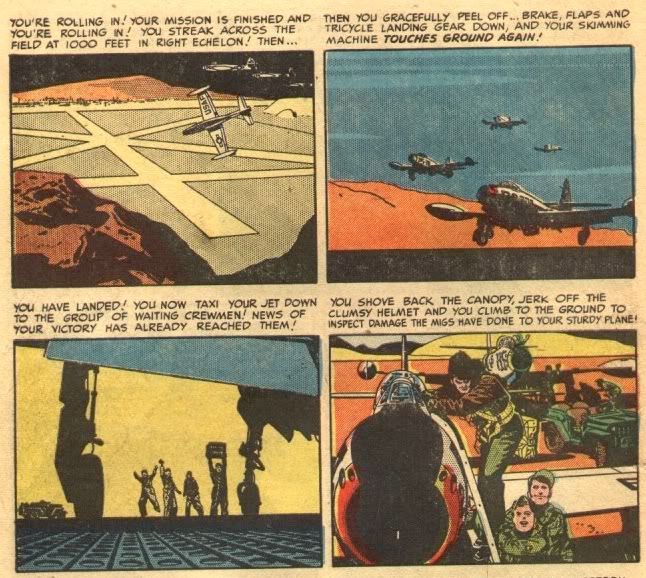 Click for large scan
FRONTLINE COMBAT #8
EC, Sept-Oct, $0.10
A showcase for two of their stalwart artists tackling their favorite subjects, a respectable placeholder from their most regular artist team and an exciting EC debut for a young new turk. Alexander Toth [under Kurtzman's guidance, presumably] really outdid himself with "Thunder Jet," a MiG Alley thriller told in the second-person perspective and shown with an abstract verisimilitude that would make an aviation-loving artist like Noel Sickles or Bert Whitman proud. Unlike George Evans, who may still draw a better-looking plane, there's no sentimentality or nostalgia in Toth's art; whether it's Kurtzman's artistic influence or editorial order, "Jet" is set in the here and now -- something that can't always be said about EC's stories about the fighting in Korea. For the rest of the issue, Kurtzman and his wrecking crew indulge in their favorites; a Wallace Wood-finished life of Caesar, a Civil War drama from Georgia-peach Jack Davis and an atmospheric, low-key vignette from Severin & Elder.
TWO-FISTED TALES #29
EC, Sept-Oct, $0.10
Considering the hot streak its sister title has been on, I guess TFT would have to give up some slack and suffer in comparison. The usual hands are here -- Kurtzman, Davis, Severin, Elder -- along with another EC debut [Dave Berg], but none of it comes together as well as the recent FRONTLINE COMBATs. The stories come off as fragments, not short stories, and not very good fragments at that. Berg has a very solo-Severin-like style, but without the vigorous line and sculptural sense of anatomy. He'll have to woodshed around the clock to catch up to Toth.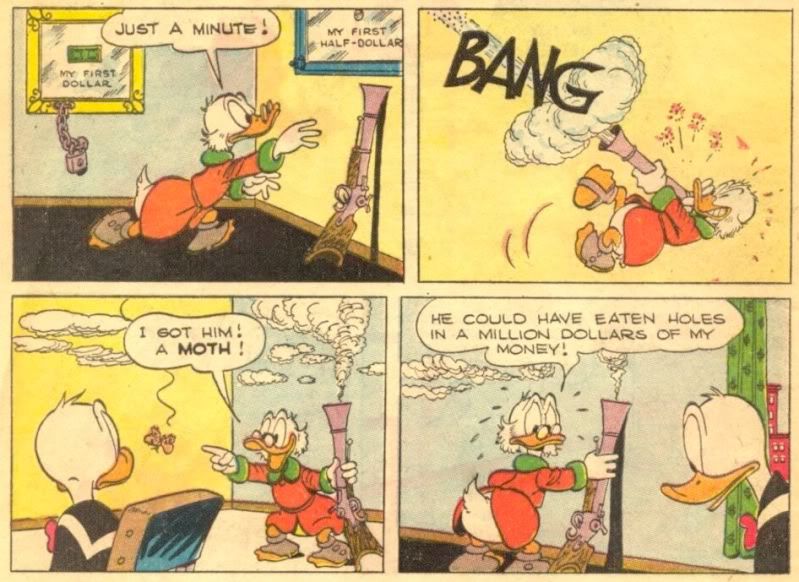 Click for large scan
WALT DISNEY'S FOUR COLOR #386
Dell, Mar, bought used for cover price: $0.10
I like this new Uncle Scrooge McDuck character, although he seems too perfectly formed and presented to not be a "Mary Sue." Every time a writer/cartoonist decides to add one of these types to a strip, they have to change its whole dynamic to make the new character the best character -- this time, they've all but given Donald Duck a lobotomy to put Scrooge over. Donald's an active character, whether or not he's the hero or the heavy, but Scrooge essentially leads him around on a leash in this issue's lead story, "Only A Poor Man." There's nothing Donald does that any one of his own nephews couldn't have handled -- except maybe kick Scrooge in the ass on the last page -- and it would make a lot more dramatic sense if it had been Huey, Dewey and/Louie in his place. Most of the jokes are funny, especially the recurring bit that Scrooge keeps telling his nephews how comforting it is to be rich when he's not worrying himself sick over his money, and the art is absolutely superb.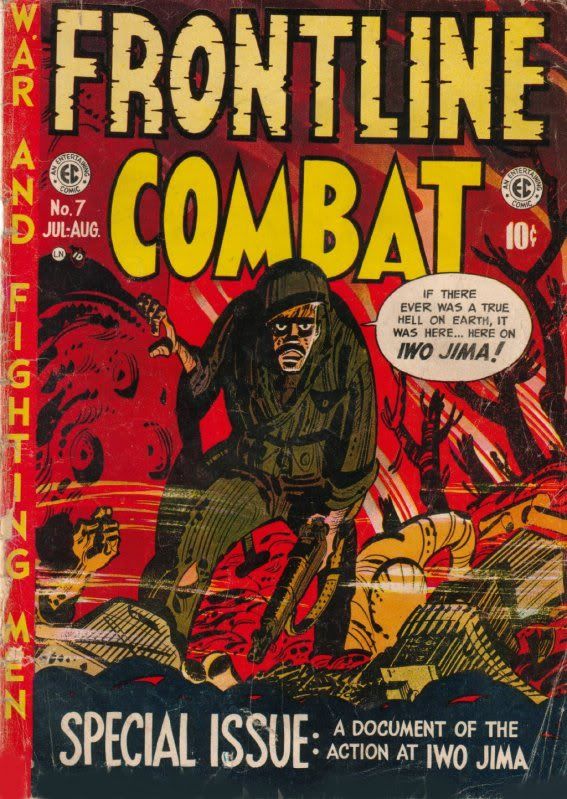 Click for large scan
FRONTLINE COMBAT #7
EC, July/Aug, also bought used for cover price: $0.10
A special, issue-wide look at the Battle of Iwo Jima. I prefer the stories that writer Harvey Kurtzman draws himself -- just look at this cover; the guy draws with the hands of a lumberjack and the eyes of a jeweler -- but there's something really exciting about how this comic takes the reader through the entire battle from the Marines' invasion of the island to the "mopping up" three weeks later, with each story directly connecting to the next and bookended by the plane in the first story crashing in the last. Kurtzman loves details on details on details, no matter how they endanger the structural integrity of a story, but it's thrilling to see him pull it off so often -- the lead-off story, drawn [or finished?] by Wood, is an Army Airman thinking about the island's history and significance for five pages as he prepares to crash-land his bomber. This piece should play out like reading the Encyclopedia Britannica in the middle of flak explosions, but Kurtzman and Wood don't let you. Unlike the second story [a Severin & Elder-drawn], "Jima" also spares us an ironic/twist/shock ending, which unfortunately is becoming as much of a crutch/cliche in these EC war funnybooks as they are in the horror & shock comics. An example of Kurtzman's love of details actually harming the story is in "The Caves," where he mixes actual Japanese words with the English dialogue, which throws us right out of the story -- is this a Japanese lesson instead of a war story? Are the soldiers, fleeing from the raging fire being spewed into the cave from an American tank, speaking in both languages as the flames consume them? Kurtzman clearly wants us to sympathize with these Japanese as human beings and not foreign caricatures, so why inject a detail that can only remind the reader that these guys aren't American? The last story is also kind of a let-down -- Kurtzman tries a little too hard to get in some what-did-they-all-die-for soldier frenzy before a silly, contrived ending that anyone can see coming as soon as the grunts pull out their family photos and talk about their kid brothers in the Air Corps. Still, to take an entire combat invasion of an island and break it down to four short, interconnected stories is impressive.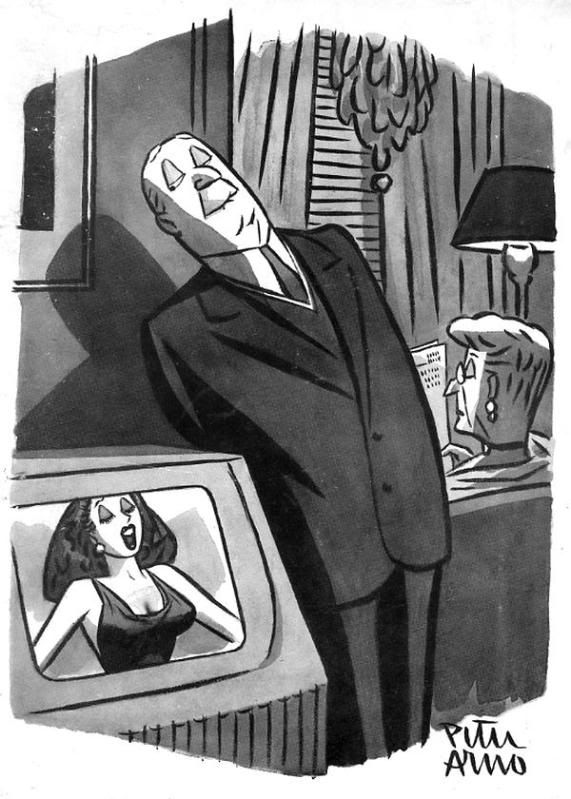 Click for large scan
PETER ARNO'S SIZZLING PLATTER
Simon & Schuster, 1949, bought used for $1.99
It's a paradox -- Arno's recent cartoons come off as a little too staid and classy now that he draws fewer gags about staid, high-class people and more about the new suburban "middle class." Well, I guess that's just how comedy is -- the upper crust acting low-down is funnier than the middle-of-the-pack acting low-class. This is Arno's first cartoon collection since the war, with lots of his older, risque pieces -- like Kurtzman, I love how bold and unpolished Arno's lines are here.