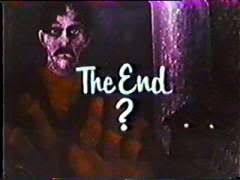 Check your
local listings
, etc.
By the time this is published, I will be on the road to Oregon and a life without television -- so, this is my last DVD Alert for the foreseeable future. It's been fun and surprisingly educational for me, but it would be discouraging quick to write about movies and other programs that I'd love to see but can't. Someday, I will get cable again, and I will see GORILLA AT LARGE without a trace of irony.
Tuesday April 27
5:45AM-6:45AM, Sun: AGNES MARTIN: WITH MY BACK TO THE WORLD, 56m.
Mary Lance's portrait of the Canadian minimalist/abstract-expressionist painter.
6AM-8AM, TCM: EAST SIDE, WEST SIDE, 108m.
8AM-10AM, TCM: GILDA, 110m.
A glamourous double-feature. SIDE is a zippy Mervyn LeRoy/James Mason vehicle showcasing Barbara Stanwyck, Cyd Charisse and Ava Gardner dressed to the nines in nearly every frame. GILDA is the Charles "King" Vidor/Glenn Ford vehicle that frames Rita Hayworth at her hottest. It's mind-boggling to realize that Hayworth was several months pregnant when she performed the black-satin "Put The Blame On Me" production number.
6:05AM-8AM, IFC: THE FIELD, 113m.
I'm pretty sure a movie can't get more Irish than this unless someone in Craft Services dies from a potato famine. Richard Harris faces off against Tom Berenger over ownership of a gawd-forsaken patch of rocky farmland. John Hurt provides support as the village idiot. [Reairs at 11:30AM.]
Noon-2PM, Sun: CRAZY LOVE, 92m.
A documentary about one of the only tabloid stories with sturdier legs than O.J. Simpson and Jon-Bonet Ramsey: Burt Pugash was a fairly sleazy NYC lawyer who cheated on his wife with a young woman named Linda Riss. Riss found out that Pugash was married and broke off the relationship, and Pugash did what any man would do in his situation; he hired some guys to throw lye in Riss' face, leaving her half-blind and horribly scarred. Pugash served 14 years in jail for the attack, and wrote Riss scads of letters from his cell. I won't give away the ending, which may be an ideal Rorschach blot for gauging one's sense of romance. [Reairs at 6:25PM.]
2PM-4PM, FMC: OUR MAN FLINT, 108m.
When no one's looking, I try to rewrite film histories to claim this 1966 James Coburn vehicle as a remake of ALPHAVILLE. [Reairs on May 1st at 4PM and on May 29th at Noon.]
4PM-6PM, FMC: H.E.A.L.T.H., 105m.
In the abstract, this should be fantastic: A ensemble comedy about a health-food convention by Robert Altman in his prime, with a cast boasting of James Garner, Carol Burnett, Alfre Woodard, Lauren Bacall, Paul Dooley, Donald Moffat, Henry Gibson, Dick Cavett, Dinah Shore, et al. It was better than I remembered -- saggy and directionless -- but it doesn't have a puncher's chance at surpassing your expectations. FYI: I understand that securing the rights to show the many real-world health-food logos and references may prove too difficult for the film to ever see a commercial DVD release any time soon. [Reairs on May 4th at 4PM.]
4PM-6:15PM, TCM: THE COBWEB, 124m.
Another one of those impeccably-staffed movies whose lack of reputation probably flags it as a misfire: Vincente Minnelli directs, Richard Widmark, Lauren Bacall and Gloria Grahame star.
5:05PM-6:45AM, IFC: A FISH CALLED WANDA, 98m.
Just a fun post-Python heist farce. "Heist farce" is grammatically clumsy sounding, but I like that it sounds like the title of a Ron Rege parody. Jamie Lee Curtis, John Cleese, Kevin Kline and Michael Palin star.
6PM-8PM, FMC: GUILTY CONSCIENCE
It sounds like another cheap '80s made-for-TV movie, which it probably was, but it also sounds like an ideal vehicle for a leading actor with chops, which it has: Anthony Hopkins plays a brilliant lawyer who decides to kill his wife. He mentally puts himself on trial over and over to find the perfect alibi before he does the deed. Blythe Danner and Swoosie Kurtz co-star under David Greene's direction. [Reairs on May 10th at 6PM.]
7PM-9PM, IFC: BRITANNIA HOSPITAL, 115m.
The less-than-stellar third film in a trilogy of collaborations between director Lindsay Anderson and leading man Malcolm McDowell suffers in comparison not only to IF… and O LUCKY MAN, but a bit to Arthur Hiller and Paddy Chayefsky's similar dark comedy, THE HOSPITAL.
8:30PM-9:30PM, Sun: CITIES ON SPEED "Mumbai Disconnected," 59m.
Episode Two of this series of documentaries about emerging mega-cities that are growing too fast to properly sustain itself. [Shouldn't it be called CITIES ON STEROIDS?] Mumbai is so congested with people that its trains are dangerously overcrowded, the roads are almost totally gridlocked but NIMBY bullshit is global so solutions to this nearly existential threat to its citizens remain politically untenable. [Reairs at 11:40PM.]
10PM-11PM, ESPNC: 30 for 30 "Without Bias"
What has to be an interesting documentary about the late Len Bias, whose overdose death is still pretty shocking almost 25 years later. Kirk Fraser directs.
10PM-Midnight, SHO2: SHOWTIME CHAMPIONSHIP BOXING "Edwin Valero vs. Antonio DeMarco"
Edwin Valero's American-television coming-out party … and last hurrah before he reportedly stabbed his wife to death and committed suicide in his jail cell the next day.
It's a terrible idea for him to move up in weight as fast as he can when he's still a young man and one hell of a banger as a lightweight. Then again, he's currently in a court-ordered drug rehabilitation facility as a result of being arrested following a scuffle with hospital staff after his wife was admitted with serious bruises & cuts and collapsed lung, so we may not be seeing the caveman for a while.
Wednesday April 28
2AM-4AM, FMC, THE VAN, 100m.
The final part of Roddy Doyle's "Barrytown Trilogy," [following THE COMMITMENTS and THE SNAPPER] is a more straightforward comedy about two goofs deciding to make their living selling fish & chips out of a van. Colm Meaney and Donal O'Kelly star, and Stephen Frears directs from Doyle's screenplay adaptation of his novel. [Reairs on May 25th at 2AM.]
6:30AM-8:15AM, TCM: PARTY GIRL, 99m.
Nicholas Ray makes something out of a mishmash of a gangster movie and a vehicle for acting dancer Cyd Charisse. Robert Taylor and Lee J. Cobb co-star.
6:50AM-8:30AM, Sun: JUMP TOMORROW, 97m.
I'm a sucker for multi-national, indie romantic comedies set in upstate New York, especially when they are occasionally funny and have a leading lady like Natalia Verbeke with support from character actors like Hippolyte Girardot and the old man who plays the deaf grandfather. [Reairs at 12:05PM.]
7PM-10PM, Sun: INLAND EMPIRE, 180m.
David Lynch & Laura Dern's epic-length movie about a movie. Jeremy Irons co-stars. [Reairs at 1:20AM.]
8PM-10PM, TCM: MIDNIGHT, 94m.
10PM-Midnight, TCM: ARISE, MY LOVE, 106m.
Mitchell Leisen is an interesting case: an art director turned director, who worked with several of the best romantic-comedy writers [frustrated enough to become writer-directors soon after] in the Golden Age of studio-era Hollywood, like Preston Sturges and, in the case of these movies, the team of Charles Brackett and Billy Wilder. Leisen seems to have been a favorite of Claudette Colbert, having worked with him on a half-dozen films; she stars in both of these movies. Don Ameche and John Barrymore costar in MIDNIGHT; Ray Milland is her leading man in ARISE. [MIDNIGHT reairs on May 3rd at 4:15PM.]
10PM-Midnight, FMC: THE COMMITMENTS, 118m.
This adaptation of Roddy Doyle's story about a ragtag bunch of Dublin aspiring musicians assembled to form a classic-soul band is charming and fun, and unique in that it may be the only film adaptation that takes more time to ingest than the original book does. Director Alan Parker and screenwriters Doyle, Dick Clement and Ian La Frenais score major points with me for using "Mustang Sally" as the first song the band tries to play, as it's a tune that can be mauled and defaced enough. Even Buddy Guy, Los Lobos, Albert Collins and the Coasters can't make that song not bite into a wet bag of shit. [Reairs on May 15th at 3:30AM, on May 24th at 10PM and on May 25th at 4AM.]
10PM-11PM, ESPNC: 30 FOR 30 "The Legend of Jimmy the Greek"
I enjoyed this look at television's greatest/only oddsmaker Jimmy "the Greek" Snyder, although I wonder if the filmmakers made a mistake trying to frame the Greek as almost a Cosell-level transcendent figure ... or if I'm just projecting that onto the film. Regardless, televised sports lost a big piece of its soul the day that they stopped including betting breakdowns on their pre-shows.
11:45PM-1:30AM, Sun: OSS 117: CAIRO - NEST OF SPIES, 95m.
Michel Hazanavicius and Jean Dujardin team up to make this amusing French spy comedy. Some funny jokes, some funny-looking character actors, some very cute girls and some great '50s style and design -- I may not ask much from my spy comedies but this one did not let me down, even when I thought about the movie a while after I saw it.
Thursday April 29
1:30AM-3:35AM, TCM: TO EACH HIS OWN, 122m.
Mitchell Leisen and Charles Brackett are back with a surprisingly gentle, beautiful, slightly bloated drama about a single mother's struggle to stay in her son's life. As always, Olivia de Havilland acts the crap out of a role that lets her walk the line between fragile and courageous. John Lund and Roland Culver costar.
9AM-10:30AM, FMC: THE HOUSE ON 92ND STREET, 88m.
Torn from still-wet headlines and widely cited as the first modern-style docudrama, this 20th Century Fox potboiler is about Nazi secret agents tearassing around NYC trying to steal our atomic-bomb secrets. Leo G. Carroll, William Blythe, Signe Hasso, Gene Lockhart star [with a very young E.G. Marshall making his screen debut] under the direction of Henry Hathaway. [Reairs on May 10 at 9:30AM and on May 28 at 6AM.]
9:20AM-10:35AM, RetroPlex: SHERLOCK HOLMES IN DRESSED TO KILL, 71m.
Basil Rathbone's final film performance as the super-detective.
10AM-12PM, IFC: BEYOND THE SEA, 118m.
I guess this is supposed to be a huge bomb and an embarrassment? Really? Much like ISHTAR, which is a fine movie [Criterion/Eclipse would do well to release a box of Elaine May's four movies as a writer-director], this Kevin Spacey vehicle is quite enjoyable if you ignore all the horseshit surrounding its reception. Bob Hoskins, Caroline Aaron, John Goodman and Kate Bosworth co-star. [Reairs at 5:15PM.]
6:30PM-8:30PM, Sun: STARTING OUT IN THE EVENING, 111m.
This May-December romance edges close to the MANHATTAN syndrome -- it's not Woody Allen's fault that two generations of filmmakers think that if they set their movie in New York City, it has to be both one of the main characters in the story and a source for musical montages that do nothing but remind the audience HEY WE'RE IN NYC ISN'T IT GREAT THIS MUSIC WAS PROBABLY RECORDED HERE TOO -- but EVENING's heart is too melancholy and its characters too vividly aware of how much they've compromised and lost for any Gershwin or jaunty pop music to play over montages of NYC streets. The movie also won over my cold, dead heart by establishing a Magic Pixie Girl™ who's sure to bring the old turtle of a male lead out of his shell and learn to live and love again … and then stymy her efforts at nearly every turn. Now there's a NYC I'd like to live in. Frank Langella, Lauren Ambrose and Lili Taylor star in producer Fred Parnes and director Andrew Wagner's adaptation of Brian Morton's novel.
11:25PM-1AM, Sun: TURN THE RIVER, 92m.
Asshole-character actor Chris Eigeman made his writer-director debut with this small, Cassavettes-esque drama about a lady pool shark looking to make one big score and leave town with her son. Famke Janssen, Rip Torn and Jaymie Dornan star.
Friday April 30
12:15AM-2AM, TCM: HITLER, 103m.
A 1962 portrait of everyone's favorite dictator; I know nothing about the movie, but if Richard Basehart played Hitler, I bet he's amazing at it. I agree with Frederico Fellini, who courted Baseheart hard to cast him as The Fool in LA STRADA; Fellini made his case to Baseheart being able to play the role "Because if you did what you did in FOURTEEN HOURS, you can do anything." Maria Emo and Celia Lovsky costar under Stuart Heisler's direction of a script by Sam Neuman and E. Charles Straus.
12:30AM-2AM, IFC: THE RAZOR: SWORD OF JUSTICE, 89m.
The first in the rapetastic "Hanzo" samurai trilogy, a definite Midnite Movie. Kazuo Koike adapts his original manga, Kenji Misumi directs and Shintaro Katsu produces and stars.
2:30AM-3AM, IFC: THE HENRY ROLLINS SHOW
Rollins chats with William Shatner -- the very idea of it makes at least a dozen people I know swoon. I am not one of them, but FYI.
4:15AM-6:15AM, TCM: THE STORY OF G.I. JOE, 108m.
As enjoyable as it is to see Burgess Meredith play an iconic Ernie Pyle and a Robert Mitchum at his most energized, the snappy quips taken straight from Bill Mauldin's WILLIE & JOE cartoons come a little too regularly for me to completely accept this movie as more than a well-made but still Hollywood war movie. A war movie drawn straight from Pyle would be a very different animal. William A. Wellman directs.
9AM-11AM, TCM: COVER GIRL, 107m.
A fine romantic vehicle for Gene Kelly and Rita Hayworth, with support from Eve Arden and Phil Silvers and direction from Charles "King" Vidor. [Reairs on May 3rd at 11:30PM.]
10:05AM-11:35PM, IFC: SLEEPER, 88m.
Even now, if Woody Allen made a sci-fi sex comedy, I would probably watch it. Eventually. Diane Keaton co-stars. [Reairs at 3:45PM.]
11:35AM-12:45PM, IFC: REEFER MADNESS, 67m.
The 1936 original propaganda film; because we all have blank DVDs with a little more than an hour of free time left on them. Tell Your Children! The part where Kenneth Craig is sucking on a joint and making the pianist play faster and faster kills me every time.
12:45PM-2:15 PM, TCM: IT SHOULD HAPPEN TO YOU, 87m.
A late-model George Cukor, starring a prime Judy Holliday, a young Jack Lemmon and the usual Peter Lawford.
10PM-11PM, SHO2: SHOWTIME CHAMPIONSHIP BOXING "Israel Vazquez vs. Rafael Marquez I & II"
11PM-1AM, SHO: SHOBOX: THE NEW GENERATION
Just a nice little night at the fights, spanned across two channels: a rerun of the first two of the Marquez-Vazquez wars, followed by a new fight card on the main channel featuring boxers with names you probably kinda sorta recognize.
Saturday May 1
2:15AM-3:45AM, TCM: INCUBUS, 74m.
3:45AM-5:30AM, TCM: THE BROTHERHOOD OF SATAN, 93m.
5:30AM-6AM, TCM: TCM Short: THE WONDERFUL WORLD OF TUPPERWARE, 29m.
It's like an evening at the Drive-In That Time Forgot: First, the semi-legendary "lost" Esperanto ghost story; then, a Satanic-cult cheapie anchored by two of the last great Western character actors; finally an undoubtedly charming short about that thrilling new invention, Tupperware! INCUBUS stars a young William Shatner, Allyson Ames and Elois Hardt under Leslie Stevens' direction. SATAN stars Strother Martin, L.Q. Jones [who co-wrote the script] and Charles Bateman.
6:20AM-8AM, IFC: ANNIE HALL, 93m.
You often hear this Woody Allen movie hailed as the most truthful romantic comedy every made; I don't think that's true, it just has a set of lies far different and much more interesting than the usual Hollywood romcom fare. Allen starred and directed a script by himself and Marshall Brickman, co-starring Diane Keaton, Tony Roberts and Carol Kane. [Reairs at at 12:25PM and 5:25PM.]
9AM-10:15AM, TCM: NEVER GIVE A SUCKER AN EVEN BREAK, 71m.
The Great Man's unkindest cut against Hollywood. W.C. Fields, Gloria Jean and Leon Errol star, with support from Margaret Dumont and Franklin Pangborn, et al. and direction by Edward Cline of script by Fields and Prescott Chaplin & John T. Neville.
9AM-10:35AM, IFC: DOUBLE HAPPINESS, 92m.
Writer/director Mina Shum's debut feature is a little clunky in spots, but it's easy to enjoy its Canadian-ness, early '90s indie feel [the correct word would be "vibe" but I refuse to use it] and the performances of Sandra Oh, Alannah Ong, Stephen Chang and even Callum Keith Rennie, who makes the best of a thankless weenie-white-guy part. [Reairs at 2PM.]
10:35AM-12:25PM, IFC: HANNAH AND HER SISTERS, 103m.
Just reading its synopsis assassinates my interest in seeing this film again, but you've been spared, so far. [Reairs at 3:30PM and 5:15AM.]
Noon-2PM, TCM: SERGEANTS 3, 113m.
Frank Sinatra! Dean Martin! Sammy Davis, Jr.! John Sturges! The West! Adventure! A W.R. Burnett script based on a Rudyard Kipling poem! Mild disappointment!
Noon-4PM, ESPN2: WOMENS BILLIARDS
The Pacific Coast Classic quarterfinals in Lincoln City, OR. If you don't enjoy watching ladies play pool, we can't be friends.
2PM-4PM, FMC: BANDOLERO!, 106m.
You would think that Dean Martin would be a bad fit for Westerns, but he's often the best part of the ones he's in -- even RIO BRAVO wouldn't be as great without Dino. BANDOLERO! is no BRAVO but it can sit proudly next to THE PROFESSIONALS, which shares a lot of the same tropes and possibly a few character actors, and the better late '60s light Westerns. The scene where Dean and Jimmy Stewart talk about what Indians there are in Montana should be a classic, but it might rely too much on context to appreciate. Raquel Welch, Will Geer, Andrew Prine and George Kennedy co-star, Andrew V. Mclaglen directs from James Lee Barrett's screenplay based on Stanley Hough's story. [Reairs on May 14th at 2PM.]
4:15PM-6PM, TCM: MY DARLING CLEMENTINE, 97m.
John Ford's gorgeous take on Wyatt Earp's battle with the Clantons. Henry Fonda, Victor Mature and Walter Brennan star.
6PM-7:45PM, TCM: BACK FROM ETERNITY, 97m.
John Farrow's mid-'50s widescreen remake of his pre-war programmer FIVE CAME BACK, this version stars the mighty Robert Ryan with Anita Ekberg and Rod Steiger.
Sunday May 2
2AM-4AM, FMC: THE FLY, 96m.
David Cronenberg's remake of the original drive-in classic. There's still something absolutely wonderful about Jeff Goldblum's mumbly underacting in some of the grosser moments in Brundlefly's life. Geena Davis costars. [Reairs on May 17th at 10PM and on May 27th at 10PM.]
3:05AM-5:25AM, IndiePlex: HENRY V, 138m.
The best of Kenneth Branagh's adaptations of Shakespeare's dramas, and one of the best English-language movies of the 1990s. It does for pasty English wimps what ROCKY did for greasy Italian dumbasses, every time -- but that side effect is certainly not what makes it so great. Paul Scofield, Emma Thompson and Ian Holm co-star. [Reairs at 10:55PM.]
6AM-8AM, TCM: LES GIRLS, 114m.
Cole Porter's final film score and Gene Kelly's final musical film for MGM is both a charming piece of widesreen-Metrocolor cotton candy and a clever variant of RASHOMON's unreliable-flashback plotting. Mitzi Gaynor, Kay Kendall et Taina Elg sont les girls, George Cukor est le auteur.
8AM-10AM, TCM: WITHOUT RESERVATIONS, 101m.
Postwar romantic comedy from Mervyn LeRoy, about a lady novelist meeting-cute a war hero who could have fallen out of her latest book. Claudette Colbert and John Wayne [yes really] star with a generous salting of Hollywood cameos [Jack Benny, Cary Grant, Raymond Burr].
10AM, TCM: GOODBYE MR. CHIPS, 114m.
Only Robert Donat could melt my dead, frozen heart when it comes to the unhappy-teacher subgenre. That he stars with Greer Garson and Paul Henreid, under direction by Sam Wood, is just gravy on my partially thawed dead heart.
3:30PM-5:30PM, FMC: THE DETECTIVE, 114m.
I really can't tell these "Tony Rome" movies apart, but they're good potsimmerers. I think this is the one where he plays Rome with a different name, and the film ends with Sinatra admiring Lee Remick's ass as she walks away. Class. Features supporting acting from a small army of solid character actors, including Jack Klugman, Lloyd Bochner, Ralph Meeker, William Windom, Tony Musante and Robert Duvall, and a bit part from Sugar Ray Robinson. Gordon Douglas directs from Abby Mann's screenplay based on Roderick Thorp's novel. [Reairs on the 25th at 6PM.]
4PM-5:30PM, TCM: THE BLACK SWAN, 85m.
One of my very favorite adventure movies as well as my favorite ribbon of Technicolor -- lots of action, pirates, cute girls, Maureen O'Hara being deeply offended/annoyed/endangered and Tyrone Power being a complete cock. Anthony Quinn, Laird Cregar and George Sanders costar under direction by Henry King from a script by Ben Hecht and Seton I. Miller.
5:30PM-8PM, TCM: CLOSE ENCOUNTERS OF THE THIRD KIND, 137m.
As much as I would now kill to have more movies featuring the team of Bob Balaban and Francois Truffaut, I think I would have been better off remembering nothing of this movie from seeing as a child except the shot of Richard Dreyfuss sculpting a model of the mountain out of mashed potatoes and saying that it means something. It's funny how many scenes in Spielberg's sci-fi movies revolve around the dinner table. Teri Garr costars.
8PM-11:30PM, FMC: FOX LEGACY: PATTON
One of the most interior epics you'll ever see. George C. Scott really is mesmerizing, even when the movie around him is a slogging march through war cliches and Cliffs Notes history. I'm fairly sure that "Fox Legacy" is the packaging that presents Fox's CEO talking about how great the movie is, how great 20th Century was in bankrolling it and how awesome Fox Movie Channel is for airing it so often, so you might want to program your recorders or your schedules accordingly. [Reairs on the 31st at 9PM and on June 1 at 2:30AM.]
Monday May 3
12:30AM-2AM, TCM: CAPTAIN SALVATION, 87m.
TCM's Silent Sunday film this week is a rather unexciting-sounding drama about a "divinity student [who] risks his future to help a prostitute." Lars Hanson, Pauline Starke and Ernest Torrence star under John S. Robertson's direction.
1:30AM-4AM, FMC: LUNA, 142m.
A rare 1979 Bernardo Bertolucci film that Fox claims is "cinematically exciting, yet controversial." I can buy that. Jill Clayburgh and Matthew Barry star, with support from Fred Gwynne.
2AM-3:30AM, ANNA CHRISTIE, 85m.
Garbo talks! This is the German-language, Jacques Feyder-directed version of Eugene O'Neill's whore-sailor romantic drama, costarring Salka Viertel.
5AM-6:15AM, TCM: THE SINGLE STANDARD, 71m.
6:15AM-8:30AM, TCM: BEAU BRUMMEL, 128m.
A fine pair of silent films: STANDARD is a progressive-sounding piece of proto-feminism starring Greta Garbo, Nils Asther and John Mack Brown under John S. Robertson's direction. BEAU is the classic British romance starring John Barrymore and Mary Astor.
9AM-11AM, FMC: NIGHTMARE ALLEY, 110m.
Tyrone Power, getting ground into the dirt and then ground even further! Joan Blondell, being so lovely you'll want to punch yourself in the face after a while! Edmund Goulding, in a once-in-a-lifetime performance as a director! George Jessel, earning a producer credit in his filmography guaranteed to trigger generations of double-takes to come! Circus Noir Overdrive! [Reairs on the 15th at 9AM.]
9:35 AM-11:20AM, IFC: THE ADVENTURES OF BUCKAROO BANZAI ACROSS THE 8TH DIMENSION!, 103m.
Peter Weller is New Wave Doc Savage! John Lithgow spilling his acting all over the place! Inexplicable watermelons! Jeff Goldblum, dressed as a cowboy! When is that sequel gonna get made, anyway? [Reairs at 3:50PM.]
10PM-12:30AM, SHO2: SHOBOX: THE NEW GENERATION
It's there if you want it.
And, some airings for beyond this week from those master planners at the Fox Movie Channel:
Friday May 7
4:15AM-6AM, FMC: CLAUDINE, 92m.
John Berry is a fascinating case -- a Mercury Theatre alumnus, blacklisted in the 1950s, etc. -- and while a black middle-class-family movie like CLAUDINE may not be a JOHNNY GOT HIS GUN or a SALT OF THE EARTH, it's a remarkable achievement from a director who strove for something more than genre crowd-pleasing.
6AM-7:30AM, FMC: TOBACCO ROAD, 84m.
I assume this is one of those less-than-stellar movies John Simon was thinking of with he described John Ford's oeuvre as two or three Edsels to every Ford, but I like the idea that he followed up THE GRAPES OF WRATH with a comedy/drama straight out of Dogpatch. Charley Grapewin, Marjorie Rambeau, Gene Tierney and Dana Andrews star.
Sunday May 9
7:30AM-9:30AM, FMC: THE LIEUTENANT WORE SKIRTS, 99m.
Frank Tashlin and Tom Ewell's first collaboration -- they made THE GIRL CAN'T HELP IT later the same year -- this is a about the pressure to re-enlist felt by the only male "civilian wife" on an Air Force base. Sheree North and Rita Moreno co-star. [Reairs on the 24th at Noon.]
4:15PM-6:15PM, FMC: THE GIRL CAN'T HELP IT, 99m.
Frank Tashlin brings his animated-cartoon chops to live-action film. Lurid full-color in Cinemascope, and performances from Fats Domino, Eddie Cochran, Little Richard, Gene Vincent & His Blue Caps and The Platters. Also, Jayne Mansfield's tits. There's an entire universe of a life lived in Tashlin's comment, "There's nothing in the world to me that's funnier than big breasts." Tom Ewell and Edmond O'Brien co-star. [Reairs on the 25th at 2PM.]
Monday May 10
8PM-10PM, FMC: THE SEVEN-UPS, 103m.
What happened to Philip D'Antoni? He produced BULLITT, then THE FRENCH CONNECTION and then produced and directed this film, which is said to have an even more amazing car chase than the previous two, collected an Academy Award or two, produced a few things for TV and then …. nothing. Is there a story there? [Reairs on the 29th at 6PM and on the 30th at 4AM.]
Tuesday May 11
9:30AM-11AM, FMC: HALF ANGEL, 77m.
A little, ridiculous slice of early '50s Technicolor candy -- a man is utterly baffled by an ex-girlfriend who is a prim and proper nurse by day and a cuckolding trollop to him at night [she's a somnambulist, duh?]. Loretta Young stars [as a de facto producer, she had original director Jules Dassin fired -- now that would have made one hell of a movie -- and replaced with amiable hack Richard Sale -- with Joseph Cotten, Cecil Kellaway and Jim Backus. The mighty Robert Riskin wrote the script not too long before his death.
Saturday May 15
7:15AM-9AM, FMC: THE MARK OF ZORRO, 94m.
An enjoyable romantic adventure from the team of director Rouben Mamoulian and stars Tyrone Power and Linda Darnell. [Reairs on the 22nd at 8:30AM and on the 24th at 10AM.]
Wednesday May 19
2PM-4PM, FMC: PRINCE VALIANT, 100m.
This is one weird concept: Hal Foster's classic illustratorly comic strip comes to the very big screen [it's one of if not the first film shot in CinemaScope, 2.55:1] via director Henry Hathaway and the woefully underrated screenwriter Dudley Nichols [STAGECOACH, BRINGING UP BABY, SCARLET STREET, GUNGA DIN, THE BELLS OF ST. MARY'S, THE INFORMER, etc.], who hit on the fairly ingenious method of adapting the absurdly complex and long continuities of the strip by using panels from the strip as storyboards for the movie. This should be a milk run for making a solid adventure movie, right? They cast Robert Wagner for the lead, Janet Leigh as his Princess Aleta, James Mason as the heavy, The Black Knight and Sterling Hayden as Valiant's comic relief/mentor Sir Gawain. All well and good, but somehow the ingredients don't quite cook the way that, say, THE ADVENTURES OF ROBIN HOOD come together although it may simply be that Wagner's terrible bob wig throws me every time. VALIANT is visually gorgeous but it is curious how fast the film's editing rhythm is; I wonder if it was done with some technical reason due to the new film ratio, or if they just had too much plot to squeeze into even a roadshow-length film, or what. The individual shots are as amazingly composed as you would expect from a movie that Hal Foster "storyboarded."
10AM-Noon, FMC: THE PROUD ONES, 90 or 94m.
This film often gets compared to RIO BRAVO [although HIGH NOON might be a better fit], but Marshall Robert Ryan has to deal with a revenge-addled Jeffrey Hunter, a socially powerful Robert Middleton and a downright disrespectful populace and there's no calvary coming to bail his ass out in the last reel, so far as I can recall. In BRAVO, Wayne and Howard Hawks act like being able to hold off one gang until help arrives is just on this side of impossible. I always thought it was funny that the plot of Wayne & Hawks' right-wing, Real American response to HIGH NOON hinged on the Duke coercing a drunk and a codger to collectively fight for the good of the community. If John Garfield and Dalton Trumbo had made that movie, you know they would have been executed as Commie traitors on the sidewalk in front of Grauman's Chinese Theatre. Anyway, THE PROUD ONES isn't nearly as heralded as a classic as either of those films, but it has gorgeous Cinemascope cinematography and a great performance from Ryan. [Reairs on the 27th at 7:30AM.]
Friday May 21
9AM-10:31AM, FMC: SWAMP WATER, 88m.
I'll never understand why Jean Renoir loved the American South so much. This is his first film for a U.S. studio -- perhaps he was still struggling to get his bearings following his escape from France, perhaps his English wasn't yet strong enough to articulate what he wanted and how he wanted it as a filmmaker, but this movie plays more like a John Ford drama than a Jean Renoir film. Ford's key screenwriter, Dudley Nichols, wrote this adaptation of Vereen Bell's novel and more than a few of Ford's favorite characters appear in this movie. Walter Huston, Anne Baxter, Walter Brennan and Dana Andrews star.
Saturday May 22
6AM-8:05AM, FMC: THE BIG TRAIL, 120m.
John Wayne's first starring role, very much like the old OREGON TRAIL video game [see also: UNTAMED; Fox really had a thing for this story]. Raoul Walsh was no John Ford, but neither was John Ford most of the time. Lots of magnificent scenery in this one, appropriately enough.
Monday May 24
2PM-4PM, FMC: THE SHERIFF OF FRACTURED JAW, 103m.
A late model, uncharacteristic Raoul Walsh Western, starring Kenneth More, Jayne Mansfield and Connie Francis as Mansfield's singing voice for one of those insipid but undeniably memorable theme songs that you normally have to hire Rod McKuen to write.
Tuesday May 25
4PM-6PM, FMC: A PERFECT COUPLE, 110m.
This long-eclipsed '70s Robert Altman movie about a middle-aged Los Angeles man meeting a young torch singer via a dating service can't boast of a cast nor a reputation on par with NASHVILLE's, but it deserves to been mentioned toward the end of the same breath. Paul Dooley and Marta Heflin star, Altman wrote the screenplay, or whatever they used to shoot the movie, with Allan F. Nicholls.
Wednesday May 26
8AM-10AM, FMC: TONIGHT WE SING, 109m.
Another probably-not-good-but-it-has-a-young-Anne Bancroft movie. 1953 biopic of opera impresario Sol Hurok starring David Wayne, Enzio Pinza and Roberta Peters, with direction by Mitchell Leisen from a script by Hurok, Ruth Goode, Harry Kurnitz and George Oppenheimer.
The End
?