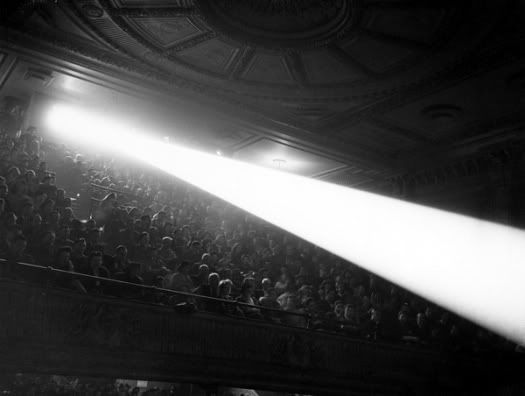 Photo by Weegee. Click for slightly larger.
As always,
check your local listings
.
Monday, March 22
11:30AM-1:30PM, TCM: ALL FALL DOWN, 110m.
1:30PM-4PM, TCM: BIRDMAN OF ALCATRAZ, 149m.
A pair of 1962-released films from John Frankenheimer; DOWN is a romance starring young Warren Beatty, Eva Marie Saint and Angela Lansbury. BIRDMAN is the Robert Stroud biopic that starred Burt Lancaster, with Telly Savalas and Thelma Ritter.
4PM-6PM TCM: THE CINCINNATI KID,103m.
A poker version of THE HUSTLER, only Steve McQueen and Edward G. Robinson try to steal scenes by underacting. Ann-Margret co-stars, Norman Jewison directs.
4:45PM-5PM, Sun: NEW BOY, 11m.
A short film from Steph Green and Roddy Doyle about a 9-year-old African boy's first day at an Irish school. [Reairs on March 28 at 5:35PM.]
6PM-8PM, TCM: MURDERERS' ROW, 105m.
The human race lost untold riches and glory when it somehow reached 1970 without a Matt Helm-Derek Flint team-up movie; if memory serves, the closest Dean Martin and James Coburn ever came to sharing the screen together was maybe a Western or a TV roast. This slice of Helm cheese co-stars Ann-Margret and Karl Malden, under the direction of Henry Levin.
8PM-9:30PM, IFC: MONTY PYTHON LIVE AT THE HOLLYWOOD BOWL, 77m.
Concert film of the Pythons' last [I presume] live performance with the full troupe: Graham Chapman, John Cleese, Terry Gilliam, Eric Idle, Terry Jones and Michael Palin, with Carol Cleveland and Neil Inness. A last hurrah before Chapman had to be an asshole and die on them. [Reairs at 3AM.]
8PM-10PM TCM: THE BIG SLEEP, 114m.
10PM-11:45PM, TCM: THE MALTESE FALCON, 101m.
Sometimes schedule programming this lazy deeply offends me.
11PM-12:20AM, Sun: A WALK INTO THE SEA: DANNY WILLIAMS AND THE WARHOL FACTORY, 77m.
Whatever happened to Danny Williams? Well, first: Who is Danny Williams? He was a key member of the filmmaking section of Andy Warhol's factory, who reportedly "edited some of Warhol's films and created the revolutionary lighting design for a notable stage show. Additionally, Williams was also Warhol's sometime lover." Williams' niece Esther B. Robinson made this documentary to investigate her uncle's life, work and 1966 disappearance. [Reairs at 4:50AM and 12:15PM.]
Tuesday, March 23
Midnight-2AM, TCM: THE SHOOTIST, 99m.
2AM-4AM, TCM: STAGECOACH, 96m.
4AM-6AM, TCM: DIRECTED BY JOHN FORD, 110m.
A triple feature of Monument Valley manliness. First, John Wayne's swan song as an actor, in a Don Siegel Western that most illustrates how permeable the line between "lean, taught" and "cheap" filmmaking can be. Lauren Bacall, Ron Howard and James Stewart co-star. Then, the Duke's breakout turn as the Ringo Kid in John Ford's first Western talkie, an eternal film-school textbook; Claire Trevor, George Bancroft and Monument Valley co-star. Finally, director/autuer hero-worshipper Peter Bogdanovich has updated and revised his 1971 profile of the irascible Ford; Orson Welles narrates.
12:15AM-1:30AM, HBO: BOXING: "Manny Pacquiao vs. Joshua Clottey"
Apparently, this welterweight bill of goods made its non-PPV debut over the weekend; HBO didn't even promote the rebroadcast! Frankly, despite the massive stage and Pac's best efforts to make it an entertaining fight -- his round-ending two-fisted jab will be the only thing to live on in highlight reels -- this is the sort of boxing match that should only be aired in the wee small hours of the morning. Y'know, when even boxing fanatics are trying to go to sleep.
12:30AM-2:30AM, Sun: AMAZING JOURNEY: SIX QUICK ONES, 117m.
Six not-so-short films about The Who from Nick Doob, Chris Hegedus, D.A. Pennebaker and Parris Patton: individual biographies of Roger Daltrey, John Entwistle, Keith Moon and Pete Townshend, an essay about the Mods and their art scene and a recent look at the band's 2003 recording sessions. [Reairs on the 29th at 9:30PM and on the 30th at 2:50AM and 10:50AM.]
1:15AM-2:45AM, FMC: SILENT MOVIE, 87m.
Mel Brooks assembles his crew -- Marty Feldman, Dom DeLuise, Sid Caesar, Ron Carey and Bernadette Peters this time -- and gives silent cinema the business. [Reairs at 4:30AM.]
6AM-7:30AM, TCM: SANSHIRO SUGATA, 79m.
It's Akira Kurosawa's 100th birthday today and TCM celebrates by showing his films all day -- in chronological order, no less -- leading off with his first film as a full-fledged director. It's startling to see so much of the artist's prime sensibilities already formed and so many of the thematic and textural concerns he would explore over and over the next 50 years. Susumu Fujita, Ryunosuke Tsukigata and Akitake Kono star.
6:15AM-9AM, Sun: THE YACOUBIAN BUILDING, 165m.
A recent Egyptian metaphorical epic about the inhabitants of a run-down Cairo apartment building. [Reairs at 1:35PM and on the 31st at 7:30AM and 2PM.]
7:30AM-9AM, TCM: THE MOST BEAUTIFUL, 85m.
I'm thrilled that one of A.K.'s thoughtful dramas isn't airing at 3:15AM for a change: Kurosawa's second feature film is a WWII homefront ensemble piece that, if my memory serves, doesn't quite transcend its propaganda origins but does a better job of it than, say, SINCE YOU WENT AWAY. Takashi Shimura, Shoji Kiyokawa and Ichiro Sugai star.
8AM-1PM, H: WWII IN HD "Darkness Falls," "Hard Way Back," "Bloody Resolve," "Battle Stations," "Day of Days"
The first five episodes of the History Channel's fairly slick CGI repackaging of The War, going from its start to the initial aftermath of the Normandy invasion. [Reairs at 2PM.]
8:30AM-10AM, IFC: BROADWAY DANNY ROSE, 86m.
A funny mid-career Woody Allen movie. [Reairs at 1:30PM.]
9AM-10:45AM, Sun: THE HOME SONG STORIES, 103m.
Tony Ayres wrote and directed this semi-autobiographical, appropriately meandering movie about his desperately materialistic single-mother [Joan Chen], his sister and their ever-shifting home life. I still haven't actually Googled it yet to confirm, but the idea that Joan Chen's not only a protege of Chairman Mao's wife, but may also still be pro-Cultural Revolution even now has made her much less bonerific in my eyes. Eye. Whether that's true or not, my penis and its two closest advisers in the Gang of Three have already denounced me for being Counter-Revolutionary. Still, Chen is compelling in this film, letting the viewer in on everything she's feeling except, in key points, whatever the thoughts are every mother clearly hides from her children. [Reairs at 4:20PM.]
9AM-10:30, FMC: DON'T BOTHER TO KNOCK, 76m.
A snappy, noirish programmer starring a young Richard Widmark, a young Marilyn Monroe and a very young Anne Bancroft in her feature-film debut. Daniel Taradash wrote the screenplay for director Roy Ward Baker. It's not Billy Wilder, but the dialogue fairly crackles throughout. "I'm not angry; I'm just furious."
9AM-10AM, TCM: THE MEN WHO TREAD ON THE TIGER'S TAIL, 59m.
Kurosawa's extremely short, rather ballsy fable about Japan's sad state of affairs as the War ended was made in 1945 but banned until 1952, for reasons that will be understandable if not condonable. Kenjiro Okochi, Susumu Fujita and Kenichi Enomoto star.
10AM-11:30AM, TCM: SANSHIRO SUGATA PART II, 82m.
Sugata returns to kick some Yanki ass and chew bubble gum, but the Yanks have atomic-bombed all the bubble gum, etc. Denjiro Okochi, Susumu Fujita and Ryunosuke Tsukigata return as stars.
10:30AM-Noon, FMC: AS YOUNG AS YOU FEEL, 77m.
Small-budget comedy about an old man fighting back against his company forcing him to retire. Monty Woolley is the [old] man, with support from Jean Peters, Thelma Ritter, David Wayne and a young Marilyn Monroe and direction from Harmon Jones from old Lamar Trotti's adaptation of young Paddy Chayefsky's story.
11:30AM-1:30PM, TCM: NO REGRETS FOR OUR YOUTH, 110m.
Kurosawa plays neorealism in a coming-of-age drama about a young woman struggling to live her life in WWII Kyoto. Setsuko Hara stars with Danjiro Oicochi and Eiko Miyoshi.
1:30PM-3:30PM, TCM: ONE WONDERFUL SUNDAY, 110m.
Jean Renoir could only wish he made a movie this sweet and simple; SUNDAY regularly jockeys for position as my favorite Kurosawa against DODESUKADEN, HIGH AND LOW and THRONE OF BLOOD -- perhaps it's not as immaculately executed as the latter, later movies, but it's heartfelt in a way that rarely reaches the screen. Midori Ariyama and Chieko Nakakita star as a poor, engaged couple determined to spend a wonderful Sunday together despite only having 35 Yen available to spend.
3:30PM-5:30PM, TCM: THE DRUNKEN ANGEL, 98m.
5:30PM-8PM, TCM: STRAY DOG, 122m.
Takashi Shimura essentially passed the Kurosawa-leading-man baton on to the fiery Toshiro Mifune over the course of making this back-to-back pair of Noirs.
8PM-9:30PM, TCM: RASHOMON, 88m.
9:30PM-1AM, TCM: THE SEVEN SAMURAI, 207m.
It's international Star Time for Kurosawa; first, the hugely influential subjective-view drama about the rape and murder of a married couple, starring Mifune, Machiko Kyo and Masayuki Mori, with Takashi Shimura. Then, the remarkably subtle epic about a small group of ronin hired to protect a small village from an impending raid from bandits, starring Mifune, Takashi Shimura, Kuninori Kodo, Seiji Miyaguchi, Daisuke Kato, Isao Kimura and Yoshio Inaba star.
9PM-11PM, H: SNIPER: INSIDE THE CROSSHAIRS
I love sniper stories. This History documentary recounts/reenacts a number of famous shots and discusses technique and other terribly interesting, ultimately useless things to know. [Reairs at 1:01AM.]
Wednesday, March 24
12:20AM-5:15AM, Indie: DAS BOOT, 293m.
This is the full miniseries version of the film, not the abridged theatrical cut. Often, extended cuts add nothing of value to a movie -- in some cases, the extra material can actually take away from the whole [see THE 40 YEAR OLD VIRGIN] -- but sometimes the additional footage simply allows you to enjoy the pleasure of its company a little longer. Which is an odd thing to say about a movie this stress-inducing, but I've enjoyed being stuck inside that tiny sub even longer than before, although I can barely watch more than two hours straight before needing air and space.
1AM-3AM, TCM: YOJIMBO, 111m.
3AM-4:45AM, TCM: SANJURO, 95m.
Akira Kurosawa and Toshiro Mifune's early '60s pair of classic sword & social-commentary adventures, driven by a Dashiell Hammett-inspired antihero. Tatsuya Nakadai co-stars as one of the ickiest heavies in Kurosawa's oeuvre, with support from Eijiro Tono and Seizaburo Kawazu in the first film and Tatsuya Hakadai and Yuzo Kayama in the second.
4:45AM-7:15AM, TCM: DODES 'KA-DEN, 140m.
If nothing else, Kurosawa makes the absolute most of the palette that color film offered at the time in his first color movie. This film comes off as terribly aloof and disjointed until/unless you watch it not as an ensemble story but as a portrait of a neighborhood. Yoshitaka Zushi leads a cast that includes Kin Sugai and Kaou Kato. Again, I understand why schedule programmers bury these kinds of challenging, offbeat films in the wee small hours of the morning, but that doesn't mean it's not chickenshit of them.
5:15AM-6:45AM, Indie: GAS!, 78m.
Roger Corman's last movie as a director for American International. Even when he made shit -- "nerve gas kills everyone older than 25 in a Texas town, so the survivors travel to a New Mexico hippie commune" -- there's something about Corman that I find compelling. This one probably will be aired in Pan & Scan, but it's not a movie that gets a lot of play anyway.
7:45AM-9:15AM, TCM: THE BLOB, 82m.
On what would have been Steve McQueen's 80th birthday, Turner spends the day showing some of his best and/or most popular movies. The celebration begins with one of McQueen's debut as a teenager who struggles to warn his small town of an ever-growing malignant monster from outer space. Aneta Corseaut and Earl Rowe co-star under direction by Irvin S. Yeaworth, Jr. from a script by Kay Linaker and Theodore Simonson.
8AM-1PM, H: WWII IN HD "Point of No Return" "Striking Distance" "Glory and Guts" "Edge of the Abyss" "End Game"
The last five episodes of the History Channel's fairly slick CGI repackaging of The War, going from the Allies' post-Normandy push toward Berlin to Japan's surrender. [Reairs at 2PM.]
9:15AM-11:30AM, NEVER SO FEW, 125m.
This is not a good movie. The worst thing that ever happened to Frank Sinatra was getting an Oscar for his work on FROM HERE TO ETERNITY; he was never Olivier, but after he made it back on top he could barely put in enough effort to play himself convincingly -- and this is almost 100% a Frank Sinatra movie. I just include it here because it's hysterical that Frank replaced Sammy Davis Jr. with Steve McQueen -- not out of any historical accuracy, but because Sam dared to criticize The Leader in a radio interview -- for this frankly stupid WWII yarn about OSS agents fighting alongside Burmese guerillas. Gina Lollobrigida co-stars, with support from Peter Lawford, Charles Bronson, Paul Henreid and Brian Donlevy under John Sturges' nominal direction.
11:30AM-1:45PM, TCM: NEVADA SMITH, 131m.
I always get this one confused with THE CINCINNATI KID. This is the Henry Hathaway-helmed Western that stars McQueen as that most vomitorious of Hollywood character types, the "fiery half-breed." Karl Malden and Brian Keith co-star.
11:35AM-2:45PM, IFC: FANNY & ALEXANDER, 188m.
I apparently don't give Ingmar Bergman his props. Fine. Ingmar Bergman rules the schools, date-rapes the mules and pities the fools. There.
1:45PM-3:45PM, TCM: THE REIVERS, 111m.
McQueen's entry in my second- or third-favorite film sub-genre, the my-nonconformist-uncle section of coming-of-age movies. Based on William Faulkner's final novel -- the plot sounds like it was taken from Faulkner fanfic, the writing "lighter" than his usual tone; so curious how often dying artists try to put on a happy face so close to death [see also: Bill Hicks' Cosby sweaters the last few months of his life] -- written by another husband & wife writing team, Harriet Frank Jr. and Irving Ravetch and directed by Mark Rydell.
3:45PM-5:45PM, TCM: LE MANS, 109m.
Straight-up car pornography. Roaring engines, incredible speed, vehicles having more character than the men driving them -- yeah, this is the Steve McQueen racing movie, not the James Garner one.
5:45PM-7:30PM, TCM: JUNIOR BONNER, 100m.
Sam Peckinpah engages the meaning of the death of the Old West in yet another way, this time as a very small family drama built around McQueen as a washed-up rodeo rider. Robert Preston and Ida Lupino co-star.
6PM-8PM, IFC: THE CROSSING GUARD, 120m.
Sean Penn's sophomore outing as a writer/director stars Jack Nicholson and Anjelica Huston as parents of a child killed by a drunk-driving David Morse. I'm not wild about Penn's Cassavettes pastiches -- Penn seems to see Cassavettes' more unfortunate habits as his most admirable traits -- but I could watch the scene where Nicholson dismissively manhandles Robbie Robertson over and over.
8PM-10PM, FMC: THE COMMITMENTS, 118m.
This adaptation of Roddy Doyle's story about a ragtag bunch of Dublin aspiring musicians assembled to form a classic-soul band is charming and fun, and unique in that it may be the only film adaptation that takes more time to ingest than the original book does. Director Alan Parker and screenwriters Doyle, Dick Clement and Ian La Frenais score major points with me for using "Mustang Sally" as the first song the band tries to play, as it's a tune that can be mauled and defaced enough. Even Buddy Guy, Los Lobos, Albert Collins and the Coasters can't make that song not bite into a wet bag of shit. [Reairs at Midnight and on the 29th at 1:30AM.]
10PM-Midnight, FMC: A PERFECT COUPLE, 110m.
This long-eclipsed '70s Robert Altman movie about a middle-aged Los Angeles man meeting a young torch singer via a dating service can't boast of a cast nor a reputation on par with NASHVILLE's, but it deserves to been mentioned toward the end of the same breath. Paul Dooley and Marta Heflin star, Altman wrote the screenplay, or whatever they used to shoot the movie, with Allan F. Nicholls.
10:30PM-Midnight, Sun: ERASERHEAD, 85m.
David Lynch's debut feature film. It's a classic. I haven't seen it. Chinga tu madre, cineastehole. [Reairs at 5:45AM and on the 29th at 11:50PM.]
Thursday, March 25
12:35AM-2AM, IFC: IT'S ALIVE, 80m.
A small order of 1968 schlock from Larry Buchanan: A demented farmer keeps a cave-nested prehistoric monster as a pet, and feeds it three people, who strenuously object to the situation.
4:15AM-5:50AM, FMC: CLAUDINE, 92m.
John Berry is a fascinating case -- a Mercury Theatre alumnus, blacklisted in the 1950s, etc. -- CLAUDINE may not be a JOHNNY GOT HIS GUN or a SALT OF THE EARTH, but it's a remarkable achievement from a director who strove for something more than genre crowd-pleasing.
6AM-8AM, FMC: THE PROUD ONES, 90 or 94m.
This film often gets compared to RIO BRAVO [although HIGH NOON might be a better fit], but Marshall Robert Ryan has to deal with a revenge-addled Jeffrey Hunter, a socially powerful Robert Middleton and a downright disrespectful populace and there's no calvary coming to bail his ass out in the last reel, so far as I can recall. In BRAVO, Wayne and Howard Hawks act like being able to hold off one gang until help arrives is just on this side of impossible. I always thought it was funny that the plot of Wayne & Hawks' right-wing, Real American response to HIGH NOON hinged on the Duke coercing a drunk and a codger to collectively fight for the good of the community. If John Garfield and Dalton Trumbo had made that movie, you know they would have been executed as Commie traitors on the sidewalk in front of Grauman's Chinese Theatre. Anyway, THE PROUD ONES isn't nearly as heralded as a classic as either of those films, but it has gorgeous Cinemascope cinematography and a great performance from Ryan.
7:15AM-8:15AM, Sun: THE TUNNEL DWELLERS OF NEW YORK, 51m.
Chantal Lasbats travels deep underground the streets of New York City, into its 18 levels of tunnels and 468 subway stations, to learn and tell stories of the homeless Vietnam vets and other societal rejects that still live down there. [Reairs on the 27th at 7:15AM.]
9:20AM-11:45AM, IFC: A FISTFUL OF DYNAMITE, 139m.
Even half-assed, compromised Sergio Leone is worth watching. Sometimes. My head swims at the idea that the lead roles were intended for Jason Robards and Eli Wallach, with Malcolm McDowell in a support role. Instead, we got Rod Steiger, James Coburn and David Warbeck and a Leone who had no interest in directing the film until he was forced into the helm. DUCK, YOU SUCKER is such a great title, too. [Reairs at 3:15PM.]
Noon-1:35PM, IFC: BRUCE LEE: HIS LAST DAYS, HIS LAST NIGHTS, 91m.
This unauthorized-biographical flick is an onion of exploitation; so many layers. Li Hsiu Hsien [later renamed "Danny Lee"] stars as Bruce Lee; Betty Ting Pei co-stars as Lee's lover … Betty Ting Pei. Three years after the real Lee mysteriously died in Pei's apartment. So creepy. The movie has one of the greatest non-starting starts I've ever seen; an interminable fight scene in the middle of nowhere. I believe it was F. Scott Fitzgerald who passionately believed that the first two chapters of a story are written solely for the writer's benefit and should be cut outright before revisions; Scott would probably burst into flames and/or ejaculate after the first half-hour of this movie. [Reairs on the 26th at 5AM.]
2:45PM-4:45PM, TCM: HOBSON'S CHOICE, 108m.
4:45PM-6:45PM, TCM: MADELEINE, 115m.
A double-feature of early '50s David Lean dramas. I know nothing about either, but the idea of Lean directing the mighty Charles Laughton in the former is more than enough to get me to record both. John Mills and Brenda De Banzie co-star in the former, Ann Todd, Norman Wooland and Leslie Banks in the latter.
6PM-8PM, Sun: NIGHTS OF CABIRIA, 118m.
It's startling and enchanting how late-period Chaplinesque this this early Fellini film is; the film even looks like a sound-era Chaplin in its grain. Giulietta Masina stars, with Amadeo Nazzari. [Reairs at 5:15AM and 12:30PM.]
6PM-8:05PM, IFC: DAYS OF GLORY, 120m.
Indie war movie about how North Africans/Arabs/Muslims in French-controlled colonies volunteered to fight Nazis and liberate France despite the kind of discriminatory treatment one normally only imagines black American soldiers received during World War II. Directed by Rachid Bouchareb from a screenplay co-written with Olivier Lorelle.
6:45PM-8PM, TCM: INDISCRETION OF AN AMERICAN WIFE, 63m.
Of late, TCM seems to love showing this movie over and over even more than it loves doing the same with ABBOTT & COSTELLO MEET FRANKENSTEIN. Jennifer Jones stars in a very small Vittorio De Sica melodrama as An American Wife Who Is Indiscreet In Italy. Montgomery Clift and Richard Beymer co-star.
8PM-10PM, TCM: INTERIORS, 92m.
It gets harder and harder to keep Woody Allen's films straight in one's mind -- I think this is Allen's first Bergman-on-Long-Island drama. Yippee. Diane Keaton, Geraldine Page and Maureen Stapleton star.
9:30PM-11PM, Sun: THE SQUID AND THE WHALE, 81m.
It's wonderful to have Noah Baumbach back and making movies again, although I'm not wild about the stylistic tics he's apparently picked up from working with Wes Anderson; I never thought I'd come to dislike hearing Blossom Dearie but here I am. Jesse Eisenberg, Owen Kline, Jeff Daniels and Laura Linney star. [Reairs at 2:15AM, on the 31st at 8PM and on April 1 at 2:30AM.]
11:45PM-1:15AM, IFC: BROTHERHOOD OF DEATH, 85m.
There's a very specific look, sound and feel to no-budget mid-'70s action movies that just can't be copied. This is a terrible movie, but watchable if you miss drive-in cinemas. Bill Berry directs a "gripping" "thriller" about three black Vietnam vets coming home to fight the Ku Klux Klan.
Friday, March 26
2AM-4AM, TCM: THE HAPPY ENDING, 112m.
4AM-6AM, TCM: THE PUMPKIN EATER, 110m.
A fine double feature of '60s Ladies Dramas: 1969's ENDING stars Jean Simmons as a middle-aged woman who leaves her family to go, like, find herself, man. John Forsythe and Lloyd Bridges co-star under Richard Brooks's direction. Anne Bancroft almost literally kicks some ass in 1964's EATER, as a young middle-aged woman struggling to find a lasting love over a series of unhappy marriages. Peter Finch and James Mason co-star with direction by Jack Clayton from a script by Harold Pinter.
4:10AM-6:05AM, Indie: NINETEEN EIGHTY-FOUR, 113m.
It's strange how this movie … well, it rarely pops up at all in conversations, but I was going to say that it's strange that it rarely pops up in discussions of artistically successful film adaptations of novels. There's really nothing you could add or subtract from it to improve it, is there? The sets are the right kind of squalid futurism, the script doesn't whitewash the more horrifying ideas in Orwell's book and the casting couldn't be better -- John Hurt was the perfect choice for Winston Smith; Richard Burton made an ideal O'Brien and Suzanna Hamilton's Julia is the right mix of heartless and sensual. Michael Radford, we salute you. [Reairs at 3:30PM, then on the 30th at 4:10AM and 3:20PM.]
8AM-9:30 FMC: TOBACCO ROAD, 84m.
I assume this is one of those less-than-stellar movies John Simon was thinking of with he described John Ford's oeuvre as two or three Edsels to every Ford, but I like the idea that he followed up THE GRAPES OF WRATH with a comedy/drama straight out of Dogpatch. Charley Grapewin, Marjorie Rambeau, Gene Tierney and Dana Andrews star.
9:30AM-Noon, FMC: THE FLIGHT OF THE PHOENIX, 142m.
The original movie, not the remake -- although I am interested to see the 2005 version, mostly to see Giovanni Ribisi and Hugh Laurie as well as see how big a shit the writer/director/producers take on Robert Aldrich & Lukas Heller's original song to group effort and rationality in the face of all-consuming hostility. I'm guessing the remakers missed that point and focussed more on shit blowing up but good. James Stewart, Richard Attenborough, Peter Finch, Ernest Borgnine, George Kennedy and Hardy Krueger star.
10AM-11:30AM, TCM: SIDE STREET, 83m.
I don't quite savvy why today is Jean Hagen day on Turner Classic Movies [starts at 6:30AM with AMBUSH], but I'm not complaining: This is a 1950 thriller from Anthony Mann that stars Hagen, Farley Granger and James Craig.
10:30AM-12:30PM, Sun: LET'S GET LOST, 120m.
Everyone should see Bruce Weber's iconic profile of cool-jazz trumpeter/singer Chet Baker at least once; Sundance has scheduled it to air often enough this month that everyone will. [Reairs at 5PM and on the 31st at Noon.]
1PM-2:30PM, TCM: NIGHT INTO MORNING, 86m.
I've often wondered what the story was about Fletcher Markle; I first encountered the Canadian writer/director/producer/actor when his production of "Life With Adam" aired on THE MERCURY SUMMER THEATRE OF THE AIR; Orson Welles seemed quite pleased to hail Markle as his Canadian counterpart [Markle reported was the show's uncredited producer/director], but the few Markle films I've seen were disappointing. I've not seen MORNING, but the combination of Markle, Jean Hagen and Ray Milland is plenty for me to give it a shot.
2:30PM-4:30PM, TCM: THE ASPHALT JUNGLE, 112m.
John Huston's finest and most rewatchable movie. That's right, I said it. Sterling Hayden and Louis Calhern star, with memorable support from Marilyn Monroe in the sweet spot of attractiveness between her rough-cut early years and the empty perfection of her prime. Richard Fleischer could have told this story in half the time, Abraham Polonsky could have told it with twice the style and Robert Aldrich could have wrung twice as much character dynamic out of the performances, but only Huston could make a heist movie breathe [or wheeze]. If not for a few Warner Bros.-esque crutches, this movie is truly evergreen.
4:30PM-6:30PM, TCM: JOHNNY GUITAR, 110m.
Nicholas Ray's cult-classic Ladies Western. Joan Crawford, Sterling Hayden and Mercedes McCambridge star.
8PM-10PM, TCM: JASON AND THE ARGONAUTS, 104m.
Is this the funnest adventure movie ever? Um, maybe. Usually any movie labeled "fun for the whole family" is one or the other at best -- usually neither -- but this is the exception to the rule. The skeleton sword fights are the best.
8:45PM-10:30PM, IFC: THE PROPHECY, 96m.
So, HIGHLANDER creator Gregory Widen made his directorial debut with a movie starring Christopher Walken as the angel Gabriel, who plans a bloody coup in Heaven, and Eric Stoltz as the angel Simon, who struggles to thwart Gabriel's plan before anyone gets hurt. In Heaven. Moriah Snyder, Elias Koteas and Virginia Madsen co-star. Viggo Mortensen plays Satan. I will be so disappointed if this movie is good.
10PM-Midnight, TCM: CLASH OF THE TITANS, 118m.
Ray Harryhausen concludes his feature-film career with a bang. I'm much more interested in how they got heavyweights like Laurence Olivier, Maggie Smith, Claire Bloom and Burgess Meredith to star in the original movie than I am in hearing anything about the upcoming remake. Harry Hamlin stars.
10PM-Midnight, ESPN2: FRIDAY NIGHT FIGHTS
Tomasz Adamek moving up to heavyweight makes Steve Cunningham "the man" at Cruiserweight -- Marco Huck may disagree but fuck him, if he wants to be the top dog, he'll have to fight outside of Germany sooner or later -- so him scrapping with the young but already top-ten Matt Godfrey one of the most promising-sounding fights FNF has scheduled in a while.
Except that the entire card has imploded, and may not be be aired at all
. [Reairs at 2:30AM, if it airs.]
Saturday, March 27
1AM-2AM, ESPNC: CLASSIC BOXING "2003: Evander Holyfield vs. James Toney"
2AM-2:30AM, ESPNC: CLASSIC BOXING "2003: Joel Casamayor vs. Diego Corrales"
Nice little double-header of 2003 superfights that ended in middle-round TKOs. [Reairs at 8PM.]
2:15AM-3:45AM, TCM: RACE WITH THE DEVIL, 88m.
1975! Peter Fonda! Warren Oates! Loretta Swit! Lara Parker! Sex! Drugs! Satanic human-sacrifice! Production-treatment of animals guaranteed to still get PETA's panties in a bunch!
5:30AM-6AM, TCM Short: SHAKE HANDS WITH DANGER, 23m.
This 1970 safety-training film scared the hell out of me more than any horror movie made since my childhood. Great theme song, too.
5:45AM-9:45AM, Indie: ONCE UPON A TIME IN AMERICA, 229m.
One of the few four-hour films that can [or should] easily sell you on sitting for the whole thing with just a thumbnail description: "Sergio Leone's GODFATHER, but Jewish." I wonder if the stories that Leone's rough cut was eight to ten hours long are true, and if that footage still exists if it ever did; there's a TV miniseries that would still rake in eyeballs 25 years later. Robert De Niro heads a hugh cast featuring Joe Pesci, Burt Ward [at long last, both greasy sidekicks in the same movie], James Woods, Elizabeth McGovern, Danny Aiello, Tuesday Weld, Treat Williams, William Forsythe, et al. with Jennifer Connelly making her film debut. [Reairs at 3:25PM.]
6AM-7:01AM, FMC: THE BIG TRAIL, 120m.
John Wayne's first starring role, very much like the old OREGON TRAIL video game [see also: UNTAMED; Fox really had a thing for this story]. Raoul Walsh was no John Ford, but neither was John Ford most of the time. Lots of magnificent scenery in this one, appropriately enough.
6:30AM-8:30AM, IFC: BRIGHT YOUNG THINGS, 105m.
Writer/actor/first-time director Stephen Fry adapts Evelyn Waugh's novel VILE BODIES into a fine, witty ensemble period-piece. Stephen Campbell Moore, Emily Mortimer, Peter O'Toole star, Dan Aykroyd, Simon Callow and Stockard Channing cameo. [Reairs at 1:15PM.]
8:15AM-10AM, Sun: METROPOLITAN, 98m.
Whit Stillman's debut as a writer-director, a Wilde-esque comedy of manners and another fine movie that makes you love Christopher Eigeman at the same time you want to punch his character in the mouth. Edward Clements co-stars.
8:30AM-10AM, FMC: THE HOUSE ON 92ND STREET, 88m.
Torn from still-wet headlines and widely cited as the first modern-style docudrama, this 20th Century Fox potboiler is about Nazi secret agents tearassing around NYC trying to steal our atomic-bomb secrets. Leo G. Carroll, William Blythe, Signe Hasso, Gene Lockhart star [with a very young E.G. Marshall making his screen debut] under the direction of Henry Hathaway.
10AM-Noon, FMC: THE DARK CORNER, 99m.
Noon-2PM, FMC: THE STREET WITH NO NAME
A sentence probably ever before typed: "Wow, a Mark Stevens double feature!" Two nice 20th Century Fox noirs starring the largely forgotten leading man; to show his versatility, he played a determined FBI Agent in the former and a determined private eye in the latter. William Keighley directed STREET with fine acting from Richard Widmark, Ed Begley and Barbara Lawrence; CORNER co-stars Lucille Ball [yes really] and Clifton Webb, with support from William Bendix. Henry Hathaway directs from Jay Dratler's & Bernard C. Schoenfeld's screenplays from Leo Rosten's story.
2PM-3:45PM, TCM: MONTE WALSH, 99m.
Even in a nominee field as packed as "Visually Gorgeous Westerns of the Widescreen-Color Era," this a gorgeous movie. Cinematographer-turned-director William A. Fraker and screenwriters David Zelag Goodman and Lukas Heller stared down The End Of The Old West and came up with a story that doesn't play like cliched metacommentary on how the Western genre itself was ending. Lee Marvin, Jack Palance and an absolutely haunting Jeanne Moreau star.
8PM-10PM, TCM: GIGI, 116m.
Paris! Romance! Singing! Dancing! Leslie Caron! Maurice Chevalier! Louis Jourdan! Vincente Minnelli!
10PM-11PM, H: SEX IN THE CIVIL WAR
11PM-12AM, H: MORE SEX IN THE CIVIL WAR
I love these dirty History documentaries. [Reairs at 2:01AM.]
10PM-11:45PM, Sun: THE SADDEST MUSIC IN THE WORLD, 100m.
Guy Maddin's best. Mark McKinney is a great leading man. [Reairs at 3:25AM and on the 30th at 6:40AM and 2:15PM.]
10:30PM-12:05AM, SHO: SUPER SIX WORLD BOXING CLASSIC "Andre Dirrell vs. Arthur Abraham"
Assuming this one isn't pushed back again -- it's been a rough year or so for big fights being delayed and/or canceled -- this could be the fight of the month. The non-PPV fight, certainly. [Reairs on SHO2 at Midnight.]
10:30PM-12:30AM, HBO: BOXING AFTER DARK "Marcos Rene Maidana vs. Victor Cayo"
I don't know, I'm a lot more excited to see the rematch between Joan Guzman and Ali Funeka, following a pretty one-sided beatdown from Funeka that ended with a baffling, infuriating majority-draw decision from the judges. Here's hoping that he comes in motivated enough to keep the decision the hell out of their hands. [Reairs at 10AM and at midnight Monday/Tuesday.]
Sunday, March 28
2AM-3:45AM, TCM: THE HAPPY TIME, 94m.
Having watched mostly from the edges of his oeuvre in, it seems that director Richard Fleischer never should have stopped making programmer Noirs. I'm quite interested to see this Quebecois family drama to see if Fleischer's postwar prime extended beyond the thriller genre. Charles Boyer, Louis Jourdan and Bobby Driscoll star.
4:15AM-6AM, FMC: WIZARDS, 80m.
This Ralph Bakshi fantasy is well worth watching. Once. I'm afraid it's more interesting for its avoidable flaws than its achieved intentions.
6AM-7:30AM, FMC: THE BULLFIGHTERS, 69m.
Stan Laurel and Oliver Hardy bring their prime film careers to an end with this nominal feature about a pair of gringo detectives confronted in Mexico by a man they wrongly helped send to prison.
7:30AM-Noon, FMC: BLOOD AND SAND, 125m.
Tyrone Power! Linda Darnell! Rita Hayworth! Rouben Mamoulian! When they were all young-ish! A really young Anthony Quinn! Vicente Blasco Ibanez's novel! Bull fights! Passion! Technicolor!
10AM-11:45AM, FMC: THE MARK OF ZORRO, 94m.
An enjoyable romantic adventure from the team of director Rouben Mamoulian and stars Tyrone Power and Linda Darnell.
10:30AM-Noon, TCM: BITTER TEA OF GENERAL YEN, 87m.
There seems to be a small, ill-advised cycle of pre-war Hollywood movies that featured caucasian actors in extensive make-up to look Asian but are more sentimental than outright racist [i.e. not the slap-a-Jap jingoism of WWII or Mickey Rooney's yellowface]: THE HATCHET MAN, THE GOOD EARTH, THE GENERAL DIED AT DAWN, later DRAGONSEED with Katherine Hepburn. This is one of the earliest, if not the first of the cycle -- a Frank Capra romantic drama about an American missionary and a Chinese warlord. Barbara Stanwyck, Nils Asther and Walter Connolly star.
Noon-2PM, TCM: LIGHT IN THE PIAZZA, 102m.
Early '60s family drama starring Olivia de Havilland, Yvette Mimieux and George Hamilton. I'd watch it for de Havilland.
2PM-4PM, TCM: SUNSET BOULEVARD, 110m.
Billy Wilder's classic Hollywood Noir about a failed screenwriter and a deluded silent-film starlet. Gloria Swanson and William Holden star, with memorable support from Erich von Stroheim and Buster Keaton.
2PM-3:45AM, IFC: RADIOHEAD: MEETING PEOPLE IS EASY, 98m.
Grant Gee's portrait of the band during the recording of OK COMPUTER and subsequent world tour. SPOILER: Life in Radiohead is nothing like being a member of Van Halen. END SPOILER.
4PM-6PM, TCM: THE SNAKE PIT, 108m.
Olivia de Havilland really excelled at playing damaged but courageous women after her informal partnership with Errol Flynn ended. I'm not much of an Anatole Litvak fan, but this mental-institution story is remarkably solid for 1948. Mark Stevens and Leo Genn co-star.
5:50PM-8:30PM, Sun: A CHRISTMAS TALE, 152m.
A Christmas family comedy [sorta] from Arnaud Desplechin,
Catherine Deneuve and Jean-Paul Roussillon? I'm sold, but why show an Xmas movie in March? Mathieu Amalric and Emmanuelle Devos costar. [Reairs at 4:05AM.]
8PM-10PM, TCM: THE EGG AND I, 108m.
A little on the late side [1947] to cash in on any wave of the semi-regular fad for chicken-farming -- it's interesting that both Carl Barks and the Marx Brothers tried to be chicken farmers before giving up and going into the easier rackets of movies and comics -- but who's to complain about having the pleasure of Claudette Colbert and Fred MacMurray's company for almost two hours?
9PM-10PM, HBO: THE PACIFIC: Episode Three, 56m.
I'm going to guess that this episode features American soldiers killing and/or being killed by Japanese soldiers. [Reairs on the 30 and 31.]
10:00 PM-Midnight, TCM: GEORGE WASHINGTON SLEPT HERE, 91m.
Writers Moss Hart & George S. Kaufman, director William Keighley and actress Ann Sheridan followed up THE MAN WHO CAME TO DINNER with this amusing but ill-fitting Jack Benny vehicle, made and released the same year. Benny was a stellar comedian -- an anti-comedian, actually -- but he couldn't make movies work for him since so much of his humor came out of character development that literally took years to hone. But, taken as just a comedy -- or better, an Ann Sheridan comedy -- it's quite satisfying.
Monday, March 29
Midnight-1AM, TCM: SHERLOCK JR., 44m.
1AM-2:15AM, TCM: THE NAVIGATOR, 60m.
2:15AM-4AM, TCM: MR. HULOT'S HOLIDAY, 87m.
4AM-6AM, TCM: MON ONCLE, 116m.
A double double-feature of movies by two of the greatest silent clowns, Buster Keaton and Jacques Tati. ONCLE is one of my favorites, not only funny and beautiful [late '50s France looks stunning in Eastmancolor] but a sui generis example of my beloved subgenre, the coming-of-age-with-an-eccentric-uncle movie.
12:05AM-2:15AM, Sun: RESCUE DAWN, 125m.
Werner Herzog dramatizes his documentary LITTLE DIETER NEEDS TO FLY as a Hollywood P.O.W.-escape movie. I'm not a big fan of this one but it's fascinating to compare the doc to the drama. The most crackling action in DAWN isn't between the prisoners and the Laotian guards but between century-class character actors Steve Zahn and Jeremy Davies as they bulldoze star Christian Bale in their twitching battle to steal the most scenes.
5:55AM-7:45AM, IFC: CRIMES AND MISDEMEANORS, 104m.
I haven't seen this since it came out on VHS; I'm very curious to see how Woody Allen & Alan Alda's four-handed [well, maybe two and a half] middle finger to Larry Gelbart plays out now that he's dead. I didn't know that Alda was imitating him when I saw it, but I remember wondering why Allen seemed to want us to dislike Alda's character when he didn't seem so bad, just a little too glib -- I chalked it up to yet another actor not wanting to be disliked. I'm really hoping that I'm old enough to appreciate the Martin Landau-Anjelica Huston-Jerry Orbach half of the film. It can't be as leaden as I thought, it was me not getting it, right? [Reairs at 11:30AM and 5:15PM.]
6AM-7:30AM, TCM: DOCTOR X, 76m.
Pretty routine Old Dark House movie whose stock is raised considerably by being photographed in two-strip Technicolor, one of the most fascinating looks available in color film but was never seriously explored [supposedly, Warner Bros. had this movie shot with it because they had a surplus]. Lee Tracy, Lionel Atwill and Fay Wray star, Michael Curtiz directs.
8:30AM-9:30AM, Sun: JOAN MITCHELL: PORTRAIT OF AN ABSTRACT PAINTER, 58m.
Marion Cajori's frank, invaluable portrait of the trailblazing female abstract-expressionist action painter is a woefully underrated contribution to art history and, as I recall, a pretty fun movie. If the moraine terminus of her commentary in the movie is any indication, it was wise of Mitchell to be so reclusive in her career; otherwise she might have been the first person to be lynched in a Parisian gallery, which is another reason why she's awesome. [Reairs at 2:45PM.]
8PM-9:20PM, Sun: I LIKE KILLING FLIES, 78m.
What is it about living and working in NYC that makes some people lose their goddamn minds? Matt Mahurin profiles foul-mouthed chef/philosopher Kenny Shopsin and his eponymous Greenwich Village greasy spoon just prior to it losing its lease and having to move. [Reairs at 1:20AM.]
8PM-9:30PM, TCM: MONKEY BUSINESS, 78m.
9:30PM-10:45PM, TCM: HORSE FEATHERS, 67m.
10:45PM-Midnight, TCM: DUCK SOUP, 69m.
An Evening With The Brothers Marx: Their last three films as a quartet before Zeppo quit and they moved to MGM. BUSINESS is the one where they're stowaways on an ocean liner and FEATHERS is the college-football one; Thelma Todd co-stars in and Norman Z. McLeod directs both. SOUP is the consensus high point for the Marx's filmography; Groucho is inexplicably named dictator of a country, oh course you know this means war, etc. Leo McCarey directs, Louis Calhern, Margaret Dumont and Raquel Torres co-star.
11PM-Midnight, Sun: A SKIN TOO FEW: THE DAYS OF NICK DRAKE, 48m.
Jeroen Berkvens's documentary about the late singer-songwriter is wispy but solid, just like a good Nick Drake song. [Reairs at 4:20AM.]
And there's another week.