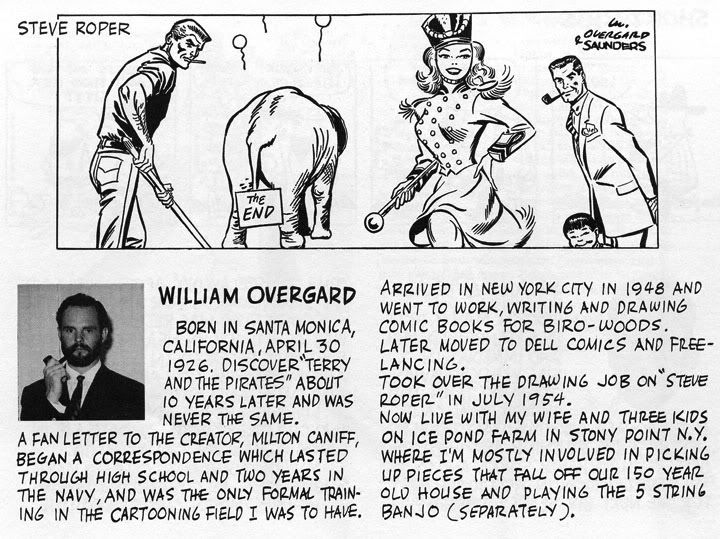 Click for larger.
Iron Mike Sterling has posted a fine little appreciation of the only commercially available collection of
RUDY
, William Overgard's charmingly absurd, albeit short-lived '80s comic strip. From what I understand, even the recession hasn't slowed the rush to pump new comics-type books into bookstores; a COMPLETE RUDY book, like a COMPLETE TOP OF THE WORLD book or two, would be a real [even somewhat profitable] service to the field.
Overgard was one of Milton Caniff's first assistants on STEVE CANYON before leaving his studio to become lead artist on the STEVE ROPER strip in 1954. He began work on RUDY -- if you had to give someone a thumbnail description of the strip: "George Burns as a chimpanzee, only a Burns who's actually able to say No to some projects he's offered" -- around 1982, and both it and his tenure on ROPER were over some time in 1985. Caniff-school inking was passe and Rudy and his world probably came off even weirder than intended to an audience that had no direct access to the BURNS & ALLEN TV show, one of the strip's key influences.]
After comic strips, Overgard had some additional success as a
screenwriter
-- he had already written four teleplays that were produced and broadcast in the late '70s -- writing scripts for the adventure cartoons SILVERHAWKS and THUNDERCATS and working on a Peter Pan series when he died in 1990. There you have it -- at long last, a living [now dead] link between Milt Caniff, Connie Sellecca and Lion-O.