I often wonder why HBO and Showtime program live fights opposite each other as other as possible. Maybe this is lazy thinking -- absolute power corrupts absolutely -- but I assume it's HBO counter-programming Showtime as they announce their upcoming dates. It seems like the most Death-Starry thing to do.
Regardless, what can a cable station gain from splitting the limited audience for a sport that's in eclipse in the States, and then leaving anywhere from a week to a month of Fridays/Saturdays where it airs no boxing programs at all? Wouldn't it be in these companies' best interest to encourage viewers to make a habit of tuning in regularly, even if to only watch a rerun of a fight card from their massive libraries? I can understand "going dark" on nights when they're broadcasting a pay-per-view event, but the other 25-30 Saturdays a year don't need to be nights that HBO-proper shows two middle-of-the-pack Hollywood movies and the last rerun of CURB YOUR ENTHUSIASM before the new episode makes it debut the following night.
This practice is especially ridiculous thinking when you know that it's not vital to catch anything on HBO the first time -- even if you don't have the cable package that includes the West Coast feeds for most of their channels, HBO itself practically trains its boxing audience to know when their shows will re-air over the following week. It's absurdly easy to avoid boxing news until you see the fight in your own sweet time. And it's been years and years, if ever, that either channel has aired something just once; at least, I can't think of anything that was literally one-off. You know that people would go apeshit complaining if they ever tried it. So, again, what do HBO/Showtime gain by counter-programing each other?
Anyway, predictions:
Angulo fails to rock the house but wins against whatever soup can he's fighting. Really, did HBO pick any contenders who lived up to the network's incessant hype this year? Of Angulo, Cristobal Arreola, Robert Guerrero, James Kirkland and Victor Ortiz, the only fighters who come off fairly well are Arreola, who fought with heart and earned an honorable loss, and Kirkland, who probably could have been something. maybe I'm still buying their hype for him, and with his all-action-what's-defense? style, he probably would have had an appropriately Tyson-length career regardless, but Kirkland lost a lot more than his liberty when he violated his probation by buying a Glock at a gun show. Could he still be a contender when he gets out of prison in two years? Sure, but that still means he lost two years of a career that would be short under the best circumstances.
Speaking of HBO hype: Chad Dawson beats Glenn Johnson, although I'd rather watch Johnson lose a dozen fights than watch Dawson win one. Johnson is somewhat limited and probably well over-the-hill, but he has presence and heart. Also, he has that John Waters-sized mustache and a head that could easily be made-up to look like Jack Kirby drew it for Atlas Comics in 1960. Who wouldn't want to watch that thing fight?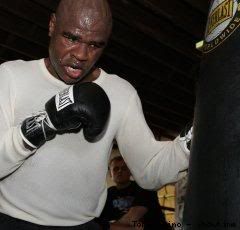 But how these fights actually turn out won't matter much to me, at least tonight; I'll be watching the Fedor Emelianenko/Brett Rogers mixed-martial-arts fight card on CBS for most of HBO's telecast. I've literally never seen Fedor fight, I've only read about him, but I think I'd rather take a chance on watching the widely-cited best fighter in MMA on "free" TV than be somewhat disappointed by HBO. I'll watch Dawson/Johnson on HBO tomorrow at 9am, HBO2 at 2pm or the West Coast feeds at Noon or 5pm. Take that, Ross Greenburg, you self-googling stinkypants! I double-dog dare you to hire me to manage the boxing department of HBO Sports! No? OK, I triple-dog dare you to hire me as a producer on the next slate of SPORTS OF THE TWENTIETH CENTURY documentaries or, even better, as your gopher on the second season of LEGENDARY NIGHTS! Ha!
ps. rather than watching the new episode of Pacquiao/Cotto 24/7, I'm recording the greatest boring heavyweight title fight ever, Shannon Briggs-Sergei Liakhovich. I love Briggs, even though he's such an unfortunate athlete. Why would anyone with a case of asthma as apparently extreme as Briggs' choose sports as a profession, and boxing in particular? I'll write about Pacman and 24/7 during the inevitable four-episode marathon leading up to the PPV's start next Saturday. I rewatched the Pac-Hatton series the other day and noticed something sublimely hilarious; I may have to pull some of the video and the last minute or so of the fight for it.
pps. Moving further up the ladder of boxing-nerds who have too much money to the PPV level: I would assume that David Haye will [did?] stick and move as fast as he can around Nikolai Valuev and squeak out a win on the judges' scorecards, impressing himself and guaranteeing another round of press bullshit with the Klitschkos. I think I like Valuev -- he seems more akin to any of his heavyweight contemporaries, with padded record stats and no names to speak of on his resume -- than an outright goon show like Butterbean, to whom he's often unfairly compared.
Also, why don't boxing telecasts use floor angles for fights anymore? This is much more exciting and gives a clearer sense of the power and dramatic narrative of a boxing match than all the zip-line-camera-mounted panning shots and CGI-animated chyrons in the world.